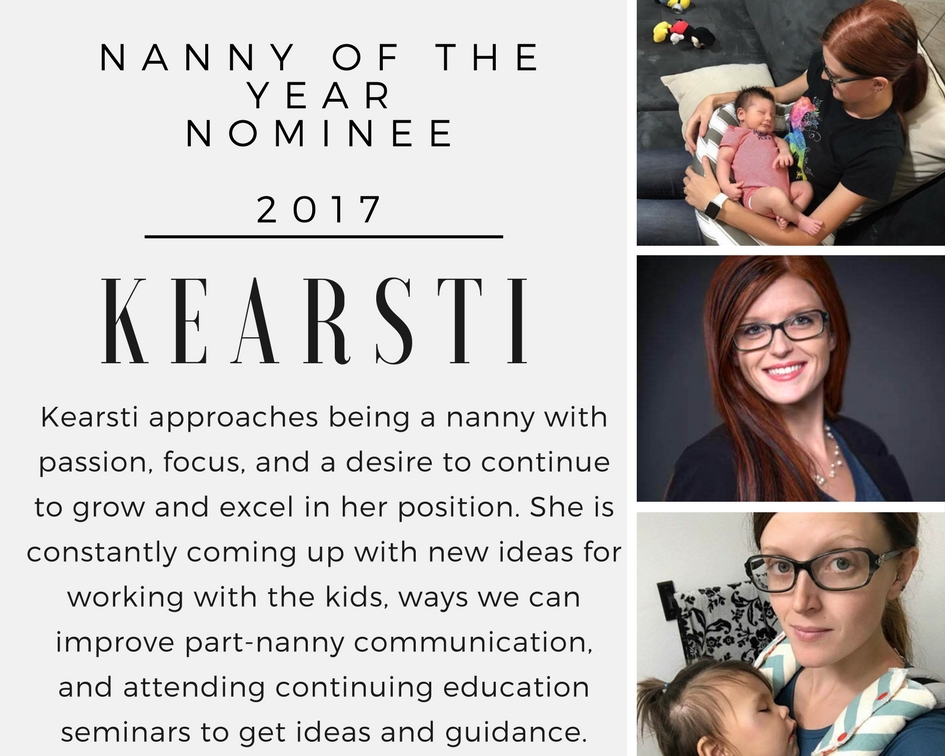 How long has the nominee been a nanny? What are the age(s) of your child(ren)?
Kearsti was a nanny before coming to us in 2015 (I think for a couple of years). She has now been with us for 2 years. Charlie is now 6, 4 when she started, and Anna is now 4, 2 when she started.
Kearsti approaches being a nanny with passion, focus, and a desire to continue to grow and excel in her position. She is constantly coming up with new ideas for working with the kids, ways we can improve part-nanny communication, and attending continuing education seminars to get ideas and guidance.
Kearsti started as our nanny as I transitioned from being a stay-at-home mom to a full time working mom. Having Kearsti's attention and compassion during this transition helped my children to feel secure and loved despite a major change in our house. After helping everyone adjust to this new normal, Kearsti has continued to work with our children in establishing good routines, good habits, working together, having responsibilities that are age-appropriate, and teaching love and compassion to all.
Kearsti has become a part of our family and I can't imagine parenting and working full-time without her. Navigating the parent-nanny relationship can often present challenges, but for our family, having open lines of communication and a strong relationship has allowed us all to form a united team to provide the best care for our children. Kearsti is thoughtful, flexible, open to new ideas, and her can-do spirit is contagious. Knowing my children are with someone who cares almost as much as I do about them allows me to go to work everyday with confidence that their world is full of people that love them. This also means that my children are learning an important lesson everyday — love comes not only from your parents, but from other wonderful people in your life. We are so happy to have our home filled with so much love and Kearsti is an integral part of our family now.