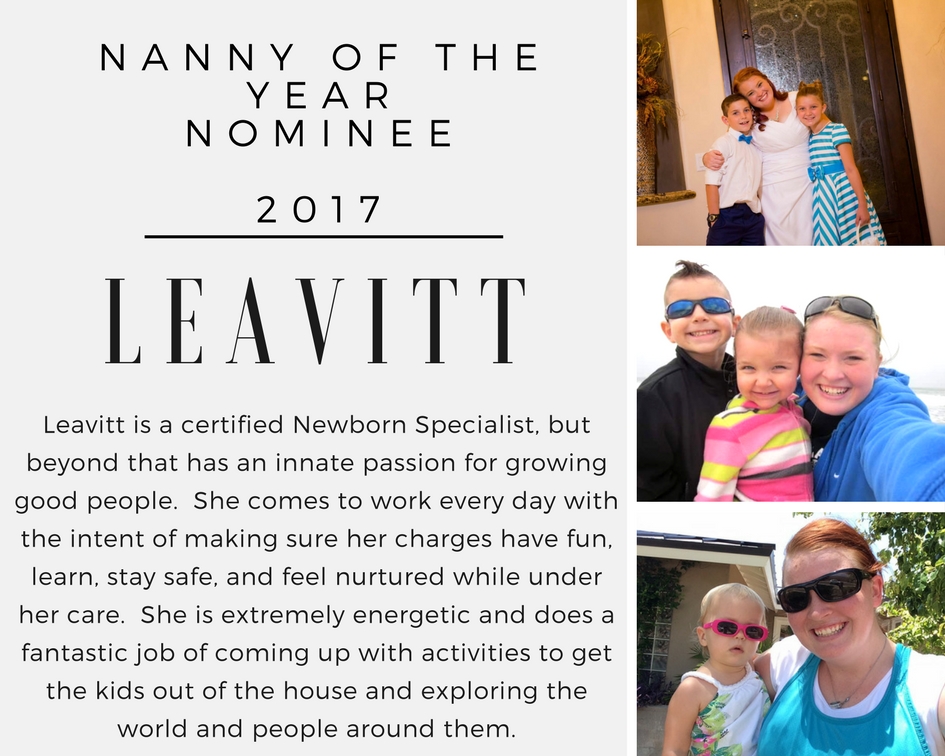 How long has the nominee been a nanny? What are the age(s) of your child(ren)?
Leavitt has been a nanny for 6 years.  She watched my current 2.5 year old daughter from the age of 3 months to two years old.
Leavitt is a certified Newborn Specialist, but beyond that has an innate passion for growing good people.  She comes to work every day with the intent of making sure her charges have fun, learn, stay safe, and feel nurtured while under her care.  She is extremely energetic and does a fantastic job of coming up with activities to get the kids out of the house and exploring the world and people around them.
Leavitt had an immense impact in helping my daughter learn not only the basics (sitting, standing, walking, eating), but also develop into a brave, kind, polite, and independent little lady.  Leavitt made sure my daughter was exposed to other kids from a young age, and always had her out and active, pushing herself to grow.  Even though they had adventure after adventure, Leavitt could also just tell when my daughter needed a down day, snuggles, and special quiet attention.  They have a very sweet, special relationship, even to this day over FaceTime after we have moved across the country
With a mom-boss that worked from home with occasional travel, a surgeon dad-boss, and a
hyper-active family dog, Leavitt's position was not easy. She has always put us as her first
priority, meeting any and all of our scheduling needs with grace and enthusiasm. Right away,
Leavitt found ways to establish a routine around baby's nursing schedule, mom's conference
call schedule, and nap times. She has always been creative in finding fun and enriching
activities to do with our daughter, and we love that they often get together with other nannies
and kids to socialize and embark on adventures together (Children's Museum, Gymboree, Zoo,
Aquarium, Train Park, etc.). Reese loves spending time with her best buddy, "LaLa," Mom loves
having the house to herself, and Leavitt enjoys the activity and social time – a true win-win-win
approach to every day!
Leavitt has an inherent take-charge attitude that has always left us feeling confident in leaving
our daughter with her, knowing that she would be safe, cared for, and having a great time. She
strikes a beautiful balance of treating Reese with compassion and tender care, while also
holding her accountable and establishing/maintaining strict rules and boundaries. She is very
driven to teach and push our daughter to learn new things, and it has been so exciting to watch
Reese progress (whether it be sitting, crawling, walking, climbing, talking or singing!) after
spending time with Leavitt.
As an employee, Leavitt wants to establish clear expectations and then check in on them, and
we really appreciated that level of communication. She wants to hear constructive feedback
and be reassured that she is meeting/exceeding expectations. She looks for ways to be helpful
(packing for trips, laundry, and baby gear maintenance). She has strong opinions that she will
share, but always wants to ultimately please the family and take on as much responsibility as
everyone is comfortable with. Above everything, Leavitt is passionate about working for a
family that she can feel a part of.
There is no better recommendation I can give than to share that we've entrusted Leavitt with
our most precious belonging, our baby, as she has grown into a confident, happy, sassy, thriving
toddler. Reese and Leavitt have a special bond that has been incredibly special to watch, and
for that we could not be more grateful.
Second Nomination for Leavitt: 
How long has the nominee been a nanny? What are the age(s) of your child(ren)?
Leavitt has been a nanny for about 8 years.  Logan was 3 and Audrey was 19 months when Leavitt started with us.  They were 5 and 3 when she moved back to Arizona
Leavitt is kind, considerate a college student, a photographer, artistic, joyful, responsible, trustworthy…really I could go on and on.
Leavitt never wasted an opportunity to teach my children while she was with them and they were having fun while she did it.  She took them on field trips to museums and parks, to farms and swimming.  They LOVE her to this day.
When Leavitt was with us, I never worried about my children which is saying something as a parent, but she was so much more to us than a care giver.  She may have only been with us as the children's nanny for less than a year and a half, but she has never left us and feels more like family.
My children still love to Skype with her and update her on their lives.  They look forward to the summer each year when she will take a weekend to fly out to see them. This last summer when she was married she had them as the flower girl and ring bearer in the wedding.
Before she went to Arizona, she handed me a scrap book that included photos from all of their adventures…it was busting at the seams and I felt part of the memories they created.  As a working mom I think the hardest thing is feeling like you are missing out on your children growing up and Leavitt found a way to make me feel I had been there with them.
It was so heartwarming to know that my children were in such wonderful loving hands.
Please consider her for the Nanny of the Year…she really should get recognized for how amazing she is.