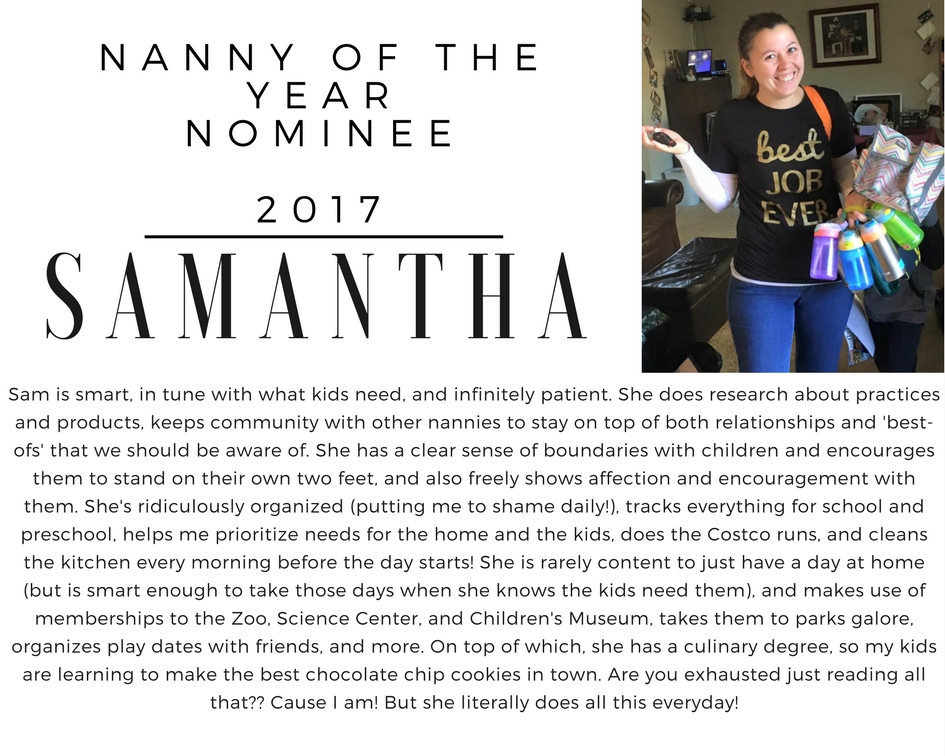 Sam has been a nanny on and off for 7-8 years, including a travel nanny around India & Africa. She's been with us since June of 2013, but has been babysitting our oldest since he was born 7.5 years ago. Our children are Christopher, age 7.5, and Max & Ellie are both 3.75 years old.
It's hard to summarize what makes Sam such an ideal candidate for this, but it can be summed up this way: multiple moms I know regularly fantasize (out loud! with me!) about when/if Sam leaves our family whether they can snatch her up, so that their lives will finally be perfect. I'm not kidding: I have this conversation at least once a month.
Sam is smart, in tune with what kids need, and infinitely patient. She does research about practices and products, keeps community with other nannies to stay on top of both relationships and 'best-ofs' that we should be aware of. She has a clear sense of boundaries with children and encourages them to stand on their own two feet, and also freely shows affection and encouragement with them. She's ridiculously organized (putting me to shame daily!), tracks everything for school and preschool, helps me prioritize needs for the home and the kids, does the Costco runs, and cleans the kitchen every morning before the day starts! She is rarely content to just have a day at home (but is smart enough to take those days when she knows the kids need them), and makes use of memberships to the Zoo, Science Center, and Children's Museum, takes them to parks galore, organizes play dates with friends, and more. On top of which, she has a culinary degree, so my kids are learning to make the best chocolate chip cookies in town. Are you exhausted just reading all that?? Cause I am! But she literally does all this everyday.
My husband and I both work full-time, so Sam is present for most everything. She's the one who attends field day at my son's elementary school when we can't. She's the one texting the other moms to set up play dates so the twins get out more than 2x weekly for preschool. She did research about preschools to give to me so we could make the best choices for our twins. She's invested in their whole lives every day.
On top of this, she encouraged all of them early in their love of learning: the twins know their letters, numbers, colors, and are learning letter sounds already because she worked with them, found resources to inspire them, and toys/books/etc. to make it all fun. She encourages them all to do projects at holidays and on school breaks, and reads to them regularly too.
She also helps them work out their own problems with friends or each other, trying to give them a strong sense of self and boundaries which is important to us. They've learned to use their words, what natural consequences are, and what expectations adults have of them thanks to Sam. Not to mention that she hugs them when they're down, makes sure they know they're loved, and helps them always know that they are safe, loved, and secure in our family.
Sam has a servant's heart. She is guided by her faith and by the example of such generous servanthood that she was raised with by her mother, who is a church youth minister. That has laid the groundwork for Sam to give of herself generously to any and all around her in need.
She will finish a week of nannying for us and go to babysit for other families on the weekend.
When grandparents have their grandchildren in town, they ask Sam to come watch them because they know she's the best.
She still has relationships with kids she nannied for years ago and has been flown across country to spend a week with kids who moved away when the parents wanted to go on vacation.
And she does all these things because she is filled with a generous love that everyone sees and experiences, so they want her to be with their children in hopes that her goodness will rub off on them too.
This job is not easy. Our kids can be tough cookies! And even after the hardest day, she still comes the next morning ready to love our kids again. Being a nanny is not just a job for Sam, it's a vocation: where her deep joy and the world's deep need meet. She's chosen to give herself to this vocation and she does it with good humor, loads of energy, a forgiving heart, and a gentle spirit. No one is luckier than we are. No one is more blessed than we are.
Sam should be named Nanny of the Year because she never asks for accolades or honors in the day to day. She doesn't self-promote or need ego-checks. Sam is just a good human being: a really, really good human being. And this long-standing passion to love and serve children deserves appreciation beyond what we can give. Everyone who knows her would be completely delighted and completely un-surprised that she received this award–because we all know her servant's heart deserves such recognition.