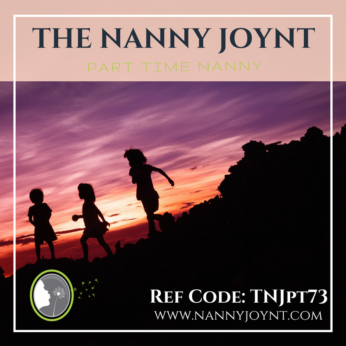 Ref Code: TNJPT73 Nanny/Household Manager Needed in Surprise
Nanny
163rd and Jomax
Posted 4 days ago
Description
Nanny/Household Manager for Amazing Family in Surprise
Cross Streets: 163rd and Jomax
Start Date:As soon as possible
Ref Code: TNJPT73
The Nanny Joynt is working with a fun and energetic family with three fun and active daughters! The girls are 7 years old and 5 year old twins. This family is seeking a professional, proactive, and organized nanny/household manager to join their family!
The schedule for this position will be: 3 -4 days per week from 2:30pm until 6:30pm and 1 -2 days per week from 9:00am until 6:30pm for a total of 25 – 30 hours per week.  The family is looking for someone who is flexible with the schedule and would be available an occasional Friday or Saturday evening for date nights. They are seeking a nanny who is willing to travel with the family, usually 1 or 2 times per year for up to a week and has the availability for some occasional overnight stays if the parents are traveling without the children.
The position is offering $18 – $20/hour with guaranteed hours, paid holidays, sick days and mileage reimbursement.  The nanny must be able to fit two car seats and the 7 year old daughter in their vehicle safely for transportation home from school, errands, play dates and activities.
The ideal candidate for this position will be engaging, committed, loyal, and loving. Someone who can implement structure in a gentle way for the girls while still having fun. The family lives out in the country so the nanny must be willing to drive the girls to activities and be able to encourage the girls to blossom into their beautiful selves. This position is ideal for someone who is looking to become a true part of the family and wants a long term career with a wonderful and loving family!
Child related duties will include picking the kids up from school, transportation to various after school activities and gymnastics, helping the children to get their homework completed, making snacks, prepping meals and making sure the girls feel safe, loved and well taken care of.
Household/personal assistant responsibilities will include laundry, loading and unloading the dishwasher, organizational projects, light cleaning and tidying, errands/grocery shopping, simple light meal prep, some pet care, assisting with packing/unpacking for trips. The ideal candidate will be able to encourage the girls to help out with chores and things around the house. This family does employ a housecleaner so no deep cleaning will be required.
This family has 2 senior dogs and an 18 year old cat.  The small dog must be accompanied when it goes outside in order to keep them safe from predators.  Pet lovers only please 🙂
They are seeking a long term commitment and would love to have their nanny stay with them for the next 4-5 years or longer!
Nannies this is a fabulous job for a nanny who is FUN, upbeat and loves dancing around signing and being silly! This is a wonderful family who is looking for a long term career nanny to join them in raising their girls. They are respectful, flexible and will treat their nanny like family!  They are excited to meet a new nanny who can be a great help and make a lasting connection with their girls. If you possess all the qualities above and are ready to work with a really wonderful family please send your resume to trisha@nannyjoynt.com REF CODE TNJPT73!
---
Location
---