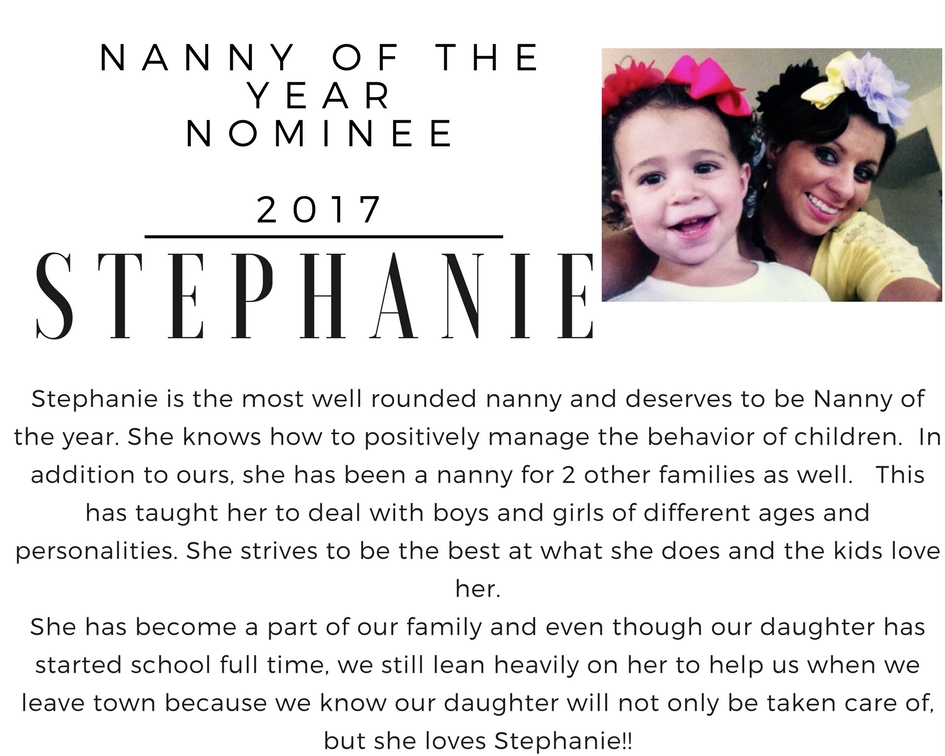 Stephanie has been a nanny for 6 1/2 years. My child is 6 1/2.
There is a tendency for a Nanny to want to excel in their position but for Stephanie, she truly has a love for children.  She is the most patient and kind person I have ever seen around children. Stephanie spends quality time with our daughter to make sure she is having fun and most important to us as parents, she acts as an extension to our parenting style.
Stephanie started to nanny our daughter from a very early age.   When I returned to work, she was willing to bring my daughter to me so I could nurse her and not have to pump nearly as much. This was very important to adjusting to returning to work and because of Stephanie, I was able to nurse her for a full year which was a top goal of mine. She also was so patient in helping train our daughter to potty train. She also spent many hours with her learning her alphabet before she turned 18 months. Our daughter was able to speak over 100 words before she turned 1. Stephanie also taught her how to read well before she started pre-school. All of these things were important for her education, but above all, she also spent time having fun. She took her to many kids clubs so she could spend the day playing with other children which helped her develop socially and prepared her for preschool. All of these things really prepared her to be top of her class in kindergarten as well as the classroom helper because she loves to help others as well.
Stephanie is the most well rounded nanny and deserves to be Nanny of the year. She knows how to positively manage the behavior of children.  In addition to ours, she has been a nanny for 2 other families as well.   This has taught her to deal with boys and girls of different ages and personalities. She strives to be the best at what she does and the kids love her.
She has become a part of our family and even though our daughter has started school full time, we still lean heavily on her to help us when we leave town because we know our daughter will not only be taken care of, but she loves Stephanie!!
Nomination # 2
Steph has been a nanny for about 6 years.  She has been part of our family since August, 2015.  Her first nanny family recommended Steph to us (and us to Steph) when I was getting ready to go back to work.  Our son, Carter, is now 2 years old (in a week!).
Steph has all of the requisite traits of an ideal Nanny of the Year.  The attribute that most impresses me is her ability to read and adjust to people and situations.  Her wheels are always churning, and she sees and understands things in the moment like a mental ninja or something.  For example, if Carter is irritated about some unknown thing as Mike and I are getting ready to leave for work, she'll identify his issue (ex. all he really needed was the apple to be in the bag when handed to him, not out of the bag) and help redirect him in a way that also does not make us feel guilty for leaving for work (or leaving an irritable child with Steph!).  In addition, Steph is a pro.  She has all of her certifications; she reads up on early child development and stays on top of current research, ideas, and trends; she's always at work ready to work and give 100%.  She's raised more children than we have (Carter is our first), and that means she is a wealth of knowledge for us and always helping us with things we just don't know.  Her expertise has helped us in so many different ways– simple things, like when to move up in diaper size; more substantive things, like when we were transitioning from majority-breast milk to majority-food.  Carter is happy and healthy, our jobs work, and our family works because of Steph.
Carter is the happy, healthy, considerate, smart, hilarious little person that he is today because of Steph.  Thanks to Steph putting up with his demands to go through letters and numbers for hours and hours each week, Carter has known the alphabet and numbers for a long time.  He's a physical little person, and his "body learning" has been supported by Steph's tirelessness and willingness to play with him outside everyday, no matter the weather (sorry, Steph).  In addition to regular trips to parks and the Phoenix Zoo, Steph takes him on special trips to Butterfly World and the Idea Museum, too.
Steph also takes Carter to regularly see her sister and niece, Amanda and Emily, and this has been wonderful for him.  He adores Emily, who is a bit older than him, and likes to learn from her as they play.
At Steph's (wonderful) suggestion and offer, this summer Steph will start to take Carter, now that he is 2, to Gymboree.  He already is considerate and compassionate towards other children, and this will also expose him to a variety of interactions with other children more regularly.
Carter is happy and healthy, our jobs work, and our family works because of Steph.  While Mike, Carter, and I know how wonderful and important Steph is, we want other people to know, too.  We want to thank her for everything she does for us.  Stephanie deserves this honor because she is absolutely the Nanny of the World to us.  But it's more than that.  By honoring Steph, other aspiring nannies will be able to learn from her example and also her expertise.  If more nannies can learn about Steph's story and qualities and approach to the profession, we'll have more "Stephs" in the world and the world will be a better place.  🙂