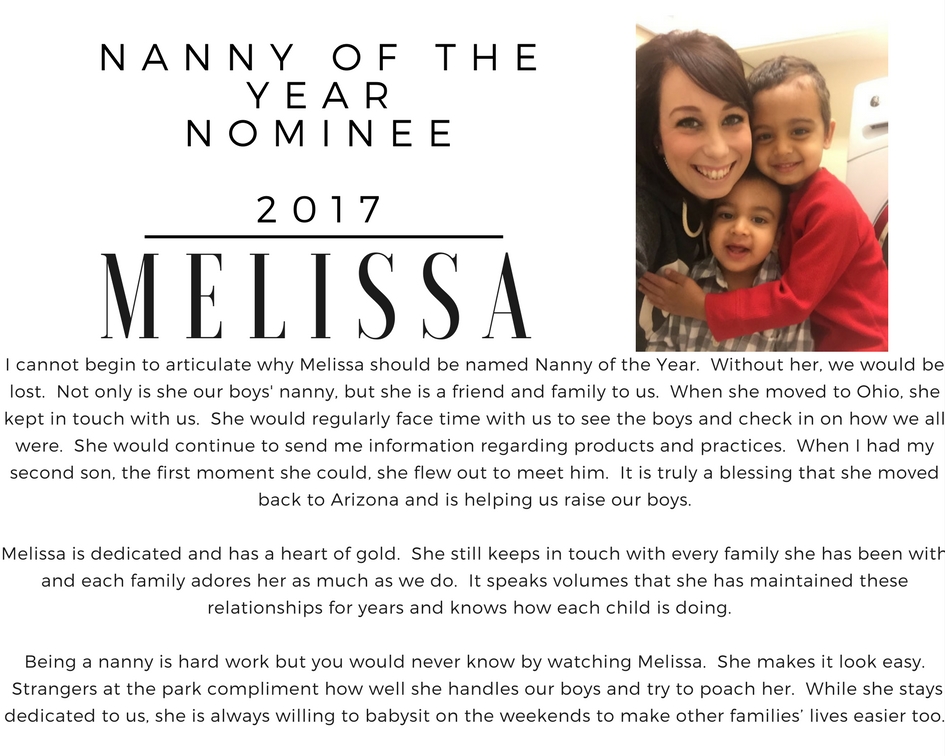 Nomination # 1
Employer
Melissa (also known as "Moo Moo" to our boys) has been a nanny since in high school and has been babysitting even longer. We met Melissa in September 2013 after I had my first son and she was with us until she moved to Ohio in August 2014.  Luckily, she moved back to Arizona in May 2015 and came back to us! She currently is the nanny for our two sons ages 3 1/2 year old and 1 1/2 year old.
It is difficult to summarize all of the traits Melissa possesses that make her an ideal nominee for Nanny of the Year. Melissa is smart, energetic, affectionate, patient, and very insightful about children and their behaviors. One could say she has a sixth sense with children. She is knowledgeable about techniques and products and continuously is researching to keep current.  She even checks prices products at multiple locations to make certain we are getting the best deal!
Melissa is incredibly organized.  She keeps track of the boy's activities and makes lists of what we need.  She even created an Amazon list to make ordering easy on us. Melissa runs errands between drop off and pick ups.  She is a planner.  She knows when we are headed to a weekend birthday party and will even pick up a gift so we are prepared.
Melissa's creativity is unparalleled. She engages the boys with different art projects throughout the day, including making homemade cloud dough, doing handprint and footprint art to capture them growing up, and creating holiday themed artwork.  Because of our oldest son's love of Lightening McQueen, she hand made him a Lightening McQueen costume for Halloween.  She spent hours of her own time at home to create one of the best costumes I have ever seen.
As my husband and I both work full time, it is reassuring to Melissa is there with them.  Melissa keeps the boys entertained, active, and happy.  They are excited to see her every morning, which makes leaving for work easier on me.  Melissa is always excited to spend time with the boys and captures moments we miss by taking pictures and videos frequently and sending updates throughout the day.  Melissa keeps a daily log outlining the boys' day and it is absolutely amazing how much she accomplishes in one day.  Not only is she busy keeping the boys happy and entertained but she also makes sure they eat well-balanced meals, hit their developmental milestones, and keeps the house picked up and neat.  Melissa simply makes our lives easier.
Melissa plans activities with the boys so that they have fun but also dedicates time to education.  She recommends products that are fun and incorporate teaching.  She spends time each day with both boys individually working on the alphabet, numbers, shapes, colors, etc.   She is creative with how she approaches teaching to keep the boys engaged.  She also reads to them constantly.
Melissa also helps us making sure the boys hit their developmental milestones.  Our youngest son was slow to crawl.  She took him to and from physical therapy and worked with him on a daily basis to improve his strength.  Melissa was patient and encouraging not only to him, but us!
When we are unable to attend our oldest son's preschool events, she is there encouraging him and taking pictures for us to see.  She volunteers at the preschool when needed too! The preschool teachers tell us how lucky we are to have her as they see how great she is with our boys.
Melissa is instilling great values and morals in our boys.  She is thoughtful about teaching the boys about cause and effect as well as consequences.  When the boys misbehave, she calmly and sympathetically redirects, encourages, and teaches life lessons.  They are growing up to be well-rounded individuals thanks to Melissa.
I cannot begin to articulate why Melissa should be named Nanny of the Year.  Without her, we would be lost.  Not only is she our boys' nanny, but she is a friend and family to us.  When she moved to Ohio, she kept in touch with us.  She would regularly face time with us to see the boys and check in on how we all were.  She would continue to send me information regarding products and practices.  When I had my second son, the first moment she could, she flew out to meet him.  It is truly a blessing that she moved back to Arizona and is helping us raise our boys.
Melissa is dedicated and has a heart of gold.  She still keeps in touch with every family she has been with and each family adores her as much as we do.  It speaks volumes that she has maintained these relationships for years and knows how each child is doing.
Being a nanny is hard work but you would never know by watching Melissa.  She makes it look easy.  Strangers at the park compliment how well she handles our boys and try to poach her.  While she stays dedicated to us, she is always willing to babysit on the weekends to make other families' lives easier too.
Nomination #2 
Former employer, friend
Melissa nannied for my daughters beginning the summer of 2007, when my daughters spent the summer in Wyoming.  Melissa continued to care for my daughters during the summers in Wyoming.  Melissa then nannied for my husband and I, as a live in nanny, in Texas.  My daughters were 2 yrs old and 5 years old when she started taking care of them.   My daughters are currently 11 years old and 15 years old.
Melissa is a very caring, patient, nurturing, loving and creative. She is honest and responsible.  Melissa is adaptable and compassionate.  Melissa is dependable and helpful, she takes on tasks.  She is trustworthy.
Melissa was always working on preschool skills with both of my daughters.  She always came up with activities for them do to to keep them entertained and busy.  I have had other nannies who just sat around and did very little with my daughters.  So, I really appreciated Melissa each time we were able to have her as our nanny.
I must inform you of a major tragedy that had occurred in our life.  My husband (17 year veteran) and I ( 15 year veteran) were both police officers in Texas.  On April 6, 2012, my husband was shot and killed in the line of duty.  The moment Melissa (who had been living in Wyoming at the time) found out, she got on the first flight to Texas to be with her "babies" (my daughters).  During the most difficult time of our lives, Melissa was there to help me with my daughters.  She cried with them, consoled them and hugged them often.  She stayed with us for a few months. Melissa assisted me in finding a nanny (she had prior commitments and could not stay).  Melissa continues to be a part of our family.  I know that if I or my daughters needed her, she would be there for us.
We have had several nannies over the years (due to moving, etc).  Melissa is by far the one nanny that went above and beyond as a nanny.  Melissa became and still is a member of our family.  She is the definition of what a nanny should be.  She should (finally) be recognized for what she does for children and families.  I believe that she truly loves what she does and I don"t think she sees it (being a nanny) as a job, she has a passion for taking care of children.