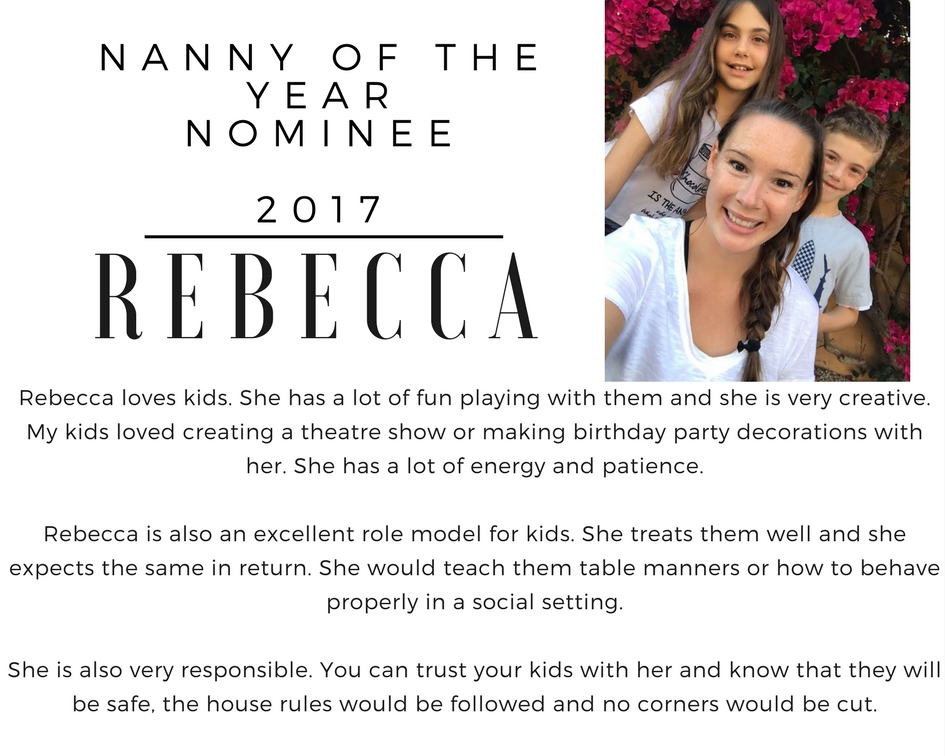 Nomination # 1
Previous employer
Rebecca worked with us as a full-time live in au pair through the summers of 2015 and 2016.my kids were 3.5 and 7 when she first started.
Rebecca loves kids. She has a lot of fun playing with them and she is very creative. My kids loved creating a theatre show or making birthday party decorations with her. She has a lot of energy and patience.
Rebecca is also an excellent role model for kids. She treats them well and she expects the same in return. She would teach them table manners or how to behave properly in a social setting.
She is also very responsible. You can trust your kids with her and know that they will be safe, the house rules would be followed and no corners would be cut.
As mentioned above, Rebecca is an exemplary role model. She has great manners and teaches by example. My daughter really looks up to her. She shows that you could be hard working but love your job at the same time. She also demonstrates that leading a balanced life is important, she eats well, has no bad habits, she is very interested in learning about new cultures and traveling. All in all, she is fantastic and I wish we could see her more often now that we live far away.
Rebecca is by far the best nanny we worked with in the 9.5 years since we've had kids. She is both a parents' favorite and a kids' favorite nanny. She is smart, talented, full of life and all in all a very positive person. She brings life into every house she comes in. I can't think of anyone else who is more deserving of this award.
employer

Rebecca has worked with several families over the years both domestically and internationally.  She has worked with our family since September 2017.   I have two daughters she cares for, ages 10 yrs and 7 years.

Rebecca is an exemplary nominee.  She has an incredible understanding of the role of nanny in a way which we have never experienced before with other caregivers we had employed in the past.  Some traits that set her apart, would be her adaptivity, flexibility, her intuitive sense in understanding circumstances and situations and knowing how to handle them in a productive and positive manner.  Rebecca is patient and loving but a great authoritative figure when she needs to be.  The dedication she has shown with our family is on a different level from what we have ever experienced.  A great qualification that we were specifically looking for, was a nanny that had previous experience with international families.  Rebecca had spent a number of years in Europe working with families from all different backgrounds.  As my partner is English, it was important to have someone who could understand and appreciate cultural differences.

Rebecca has contributed immensely to my two daughters, in all aspects of development.  As my children are a product of divorce, I was especially sensitive to their emotional well being and the general struggles that some children who have been through a significant family disruption, would experience.  Never has she failed me in this sense.  She provides a great balance in love and compassion but knows when the girls need to be disciplined if not behaving well.  She regularly works with them on good manners in all situations, whether it be at the dinner table or in a social situation.  What I especially appreciate, is that she always explains what she is doing and why.  Particularly for children who cannot always conceptualize and understand every cause and effect like adults.

Rebecca should be nominated because she is simply the BEST nanny we have ever had!!  We have experienced many nannies in the past and none have even come close to being as dedicated and professional as she has.  Particularly with our household, there are many moving pieces and a big international element, so one has to be very adaptive and able to travel well with a family.  I would say this…..there are many nannies that are great, that provide a nurturing environment with their families, who have normal schedules and a lot of predictability to their job.  Then there is the nanny who is on a whole different level.  With Rebecca, you get exactly this!
Boss

How long has the nominee been a nanny? What are the age(s) of your child(ren)?

Rebecca took care of my children in 2014/15 – ages 2 and 4.

It is not often that intelligence, responsibility, sincerity, creativity, and genuine kindness come wrapped in one package, but she brings with her just that.
I worked with Rebecca for two years as the primary care taker of my children. Rebecca has excellent written and verbal communication skills, is extremely organized, and reliable. She is a pleasure to work with and be around. Let me say that I have no doubt she can adeptly meet any challenge. She has shown repeatedly that she is profoundly dedicated and responsible.

Rebecca has a wonderful rapport with people of all ages, especially children.  Her ability to connect with my children and her talent at teaching simple concepts, as well as more advanced topics, are both truly superior. She accomplishes these tasks with great initiative and with a very positive attitude.

During the time Rebecca spent with our family, she distinguished herself as a conscientious and energetic pioneer in the field of working with children. I have enormous respect for her dedication and leadership skills and would be adored by any family grateful enough to have her.