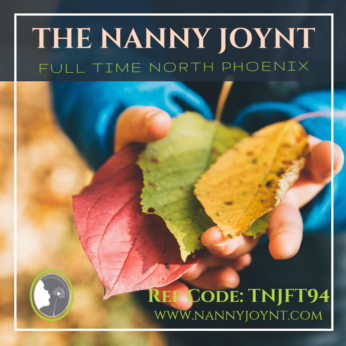 TNJFT94 – Great Family with 3 Children Seeking Full Time Nanny/Household Manager
Household Manager
Tatum and Shea
Posted 3 weeks ago
This position has been filled
Description
Full Time Nanny/Household Manager Needed for 3 Children
Location:  Tatum and Shea
Start Date: As Soon As Possible
Ref Code: TNJFT94
The Nanny Joynt is working with an amazing family who has 3 wonderful children! They are looking for a happy and upbeat nanny/household manager who will help them care for their children and home. Their oldest son is 7 years old and loves swimming, tennis, running, ballet and reading.  He is sweet, thoughtful and a rule follower. Their middle son who is 5 years old enjoys, swimming, tennis, running and ballet. He is funny and creative. Their youngest child is their daughter she is 3 years old and enjoys swimming and ballet. She is a girly girl and enjoys singing and dancing.  All three of their children have a dairy allergy so their new nanny must be mindful of this. This is a busy family where both parents work outside of the home so they are looking for someone who is able to manage their children while still making sure household tasks are completed.
The schedule for this family will be: 40 hours per week 
Monday 12:00pm – 6:30pm 

Tuesday will be 8:30am – 6:30pm

Wednesday 12:00pm – 5:30pm

Thursday will be 8:30 – 6:30pm

Friday  12:00pm – 5:30pm
Their two sons attend school M-F from 8:00am until 3:30pm and their daughter attends preschool from Monday, Wednesday and Friday from 9:00am until 12:00pm. They nanny will need to pick up the youngest from preschool and drive the children to after school activities. Family will reimburse for mileage or provide a vehicle for her to use.
During the Summer months the children will fo to camp typically 9am – 12pm Monday – Thursday and be home with the nanny on Fridays.
This position is offering $20 per hour with guaranteed hours, PTO, and paid holidays. The family would love for their nanny to be available to travel with them, most likely for long weekends and 1 week during the year. This is ideal but not mandatory. 
The ideal candidate for this position will be extremely reliable, efficient and organized. Someone who is engaging, playful, fun, organized and energetic. Someone who is great at multitasking and can keep the children busy/safe while still managing the household tasks, a true team player happy to pitch in where needed.  A nanny who is happy, upbeat and great communicator, creative, fun, flexible and able to understand how to run a household. This is a busy household and the family is looking for someone to keep things running smoothly. They would love a nanny who is good with routine and enjoys organization.
Child related duties will include, but are not limited to:  Getting the children ready for school, pack lunches, and make sure they have everything packed for school.  Helping the children with homework and school activities, projects and helping them manage school communication. Taking them to extracurricular activities, teaching them new things, engaging with the children daily, sorting toys and clothes, maintaining organization of their rooms and helping out where needed.  
Household responsibilities will include, but are not limited to:  Family laundry, dry cleaning, purchasing gifts, supplies and decorating for the holidays. Dishes, meal prep, organizational projects, light house cleaning and tidying, errands/grocery shopping, load and unload dishwasher, vacuuming common areas, wipe down counters, empty trash and keep the home in order daily. Some assistant tasks like scanning old photos and keeping things in order will be needed.
A typical day with this family will be arriving at their home on time, getting children ready for school, breakfast and the older children to the bus stop. 2 days per week spending the day with the youngest, running errands, fun outings, housework, picking up from school, snack, homework, after school activities.  Helping with meal prep and making the house is in order before leaving each evening.
They are seeking a long term commitment and would love to have a nanny/household manager in their home for the next 3 to 5 years!!!  
Nannies this is a great job for the right candidate who is organized, fun, upbeat and loves getting things done! This is a wonderful, easy going family who is looking for a long term nanny to become part of their family. They are excited to meet a new nanny who can be a great help and make a lasting connection with their kids! This family really values the work a nanny does and treats their nannies like gold! 
If you possess all the qualities above and are ready to work with a really wonderful family please send your resume to trisha@nannyjoynt.com REF CODE TNJFT94!
---
Location
---