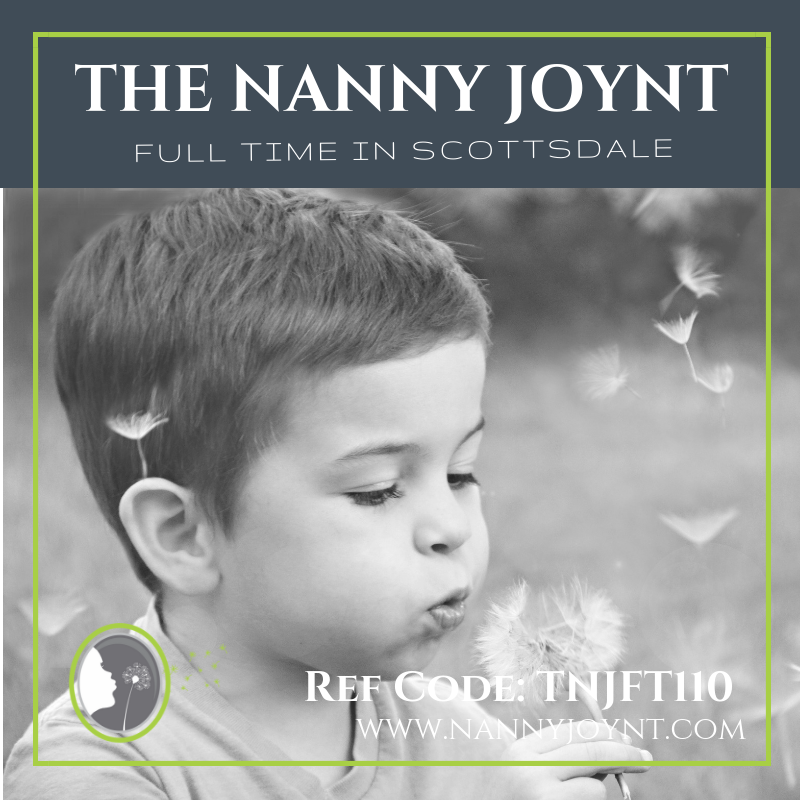 TNJFT110 – Sweet Family in Scottsdale Seeking Reliable Nanny
Nanny
64th street and Bell Rd
Posted 6 months ago
This position has been filled
Description
Proactive Nanny Needed in Scottsdale
Location: 64th and Bell Rd
Start Date: ASAP
Ref Code: TNJFT110
The Nanny Joynt is working with a fabulous and happy family who lives in Scottsdale.  They have one little boy who is 2 years old. Their son can take time to warm up to a new person, but once he does he is a very sweet, silly and warm little boy.  He enjoys reading, playing outside, going to the park and playing sports. We are assisting this family in finding a loving, nurturing, patient and proactive nanny who will be engaging and is great at open communication.  They would like their new nanny to focus on taking care of their son and be engaging with him each day. This position will consist of mainly caring for their little boy with some light household related tasks while he is napping. 
The schedule will be Monday through Friday from 9:00am until 3:00pm most days but can be as late as 5:00pm, with the exception of Tuesdays and Friday, on Tuesday your start time would be 10:30am and Fridays you will be off around 2pm. The job will be a guaranteed 30 hours per week and can be up to 35 hours some weeks.
The position is offering $18 per hour, with guaranteed hours, paid vacation, paid holidays and paid sick days!
Mom does work at home in her home office most of the time.  A nanny who is comfortable with a work at home and involved parents is ideal.  Mom's office door is always open if her son would like to come in for a visit or if the nanny has any questions during the day.  She loves open communication and will enjoy receiving texts throughout the day. This family encourages planned outings and activities and would love their nanny to have fun educational things planned for their sweet little boy.
The ideal candidate for this position will be dependable, responsible, friendly and caring.  A nanny who will be proactive and a good listener will work best with this family. They are looking for a nanny who will be cautious and aware of her surroundings and put safety first each day. Their nanny should be organized, able to adhere to schedules and be an active part in planning each day. The family follows 1, 2, 3 Magic so a nanny who is familiar with this would be ideal. This family may be adding to their family in the future so ideally the nanny they hire would be comfortable and experienced with infants as well. 
Child related duties will include all childcare related duties for their sweet boy. The nanny will be responsible for feeding, naps, potty training, activities, walks, playing outside, outings and age appropriate developmental activities daily. The family would like someone who will be engaging and enjoy reading and singing with their son.
Household responsibilities will include children's laundry and linens, light house cleaning such as making sure kitchen is wiped down, load/unload dishwasher, preparing and planning meals for their son, tidying and keeping things organized and neat as needed.  You will need to keep items stocked and put away. This family does have a house cleaner who comes twice a month for deep cleaning.
They do have one indoor, friendly dog and an indoor friendly cat.  A pet lover would great! Some feeding of the pets may be needed. The dog is mostly with Mom during the day.
This is a sweet and loving family! They want their nanny to be able to connect and form a strong bond with their son and family.  Someone who will have a contemporary approach to teaching and loving him. Both parents are organized so they would like those same qualities in their nanny.  They are a very happy family that puts their son and family first before anything else. They find joy in everyday and really love being involved with the growth and development of their son. They are looking for a nanny who is consistent and gentle. They are very excited to meet their new nanny!
To be considered for this fantastic opportunity please email your resume to trisha@nannyjoynt.com please use Reference code – TNJFT110  in the subject line. Interviews will begin ASAP.
---
Location
---