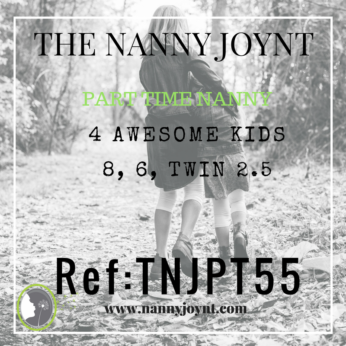 Ref Code: TNJPT55 Part Time Nanny Paradise Valley
Nanny
68th Street and Cheney Drive
Posted 4 months ago
This position has been filled
Description
Reference Code: TNJPT55
Part Time Nanny/Household Assistant Paradise Valley
Start Date: ASAP
64th Street and Camelback
The Nanny Joynt is excited to share a fantastic opportunity to work with a wonderful hands-on stay at home mom and professional dad with 4 adorable kiddos! The children are ages 8 (G), 6 (B), and 2.5 year old twin girls! The two older children are in school full time so the majority of the day will be spent with the adorable twin girls. The ideal schedule for the family would be:
Monday 10am – 6pm

Wednesday 10am – 6pm

Friday 10am – 6pm
(They do have some flexibility on the days for the right candidate. They would ideally like some flexibility from their nanny to work additional hours if dad is traveling or they want to have a date night.)
This position is offering $20-$22/hour with guaranteed hours and use of family car!!
The children are all great kids who are active in sports and activities. They would love a nanny who is fun and engaging, upbeat and positive, someone who can really jump in and help out whenever and wherever is needed. The ideal candidate for this position has a good balance between fun and structure when needed.
The number one priority for this family is finding a nanny who enjoys interacting and playing with the children. They are open to the nanny taking the children to playdates and on outings to various places such as the zoo, museums, aquarium etc.
Dad works from a home office and mom will be in and out. It is extremely important that the nanny they hire be comfortable working as a team as well as on her own.
Child related responsibilities: Playing and engaging with the children, planning and taking them on child related outings/classes, preparing meals and snacks, putting the younger two down for nap time, assisting with potty training.
Household related responsibilities: General clean up after self and children, assisting the children with cleaning up toys before moving on to the next activity, children's laundry, packing school lunch for the following day as well as meal prep for the children, occasional errands or grocery shopping, shopping for birthday presents, loading/unloading dishwasher.
This family does have one sweet 5 year old great dane who may need fresh water or let out during the day.
They would love to find a nanny who can commit at least through the end of next Summer and perhaps even longer!
The ideal candidate for this family is someone who is easygoing, playful, fun, happy and genuinely enjoys caring for children. This is an incredible opportunity to work with a really sweet family! They recently relocated to Arizona and are excited to find a wonderful nanny who will become part of their family! They have had 2 fantastic nannies in the past whom they adore.
---
Location
---