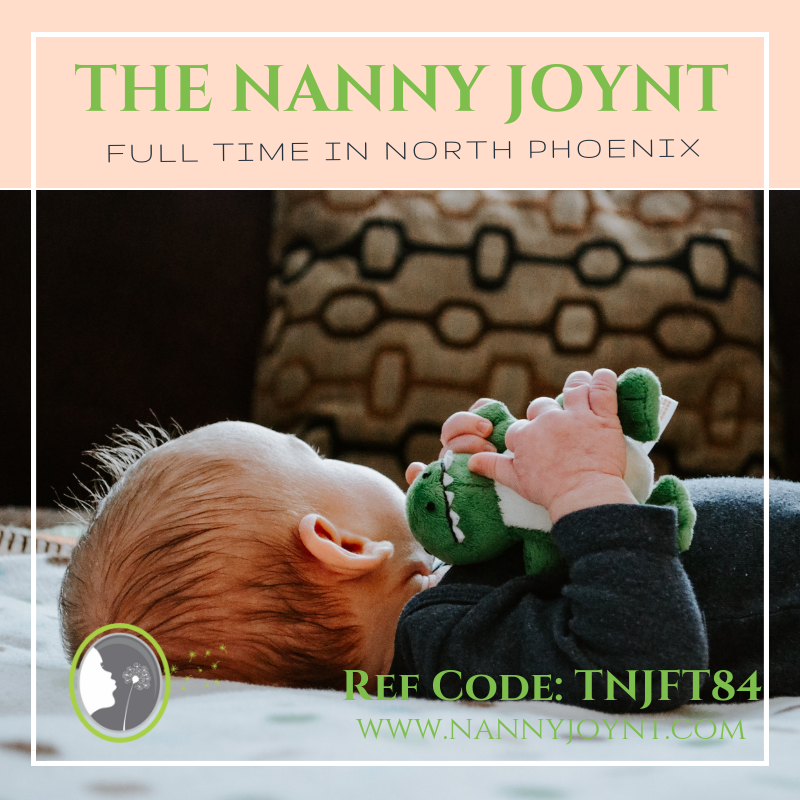 Ref Code TNJFT84 – Full Time Nanny Needed in North Phoenix
Nanny
11th Street and Glendale
Posted 11 months ago
This position has been filled
Description
Amazing Nanny Needed in N. Phoenix with Infant
Cross Streets:  11th St and Glendale Rd
Start Date: 10/22/2018
Ref Code: TNJFT84
The Nanny Joynt is working with a loving and happy family who lives in North Phoenix.  They have one adorable baby boy who is 5 months old. We are assisting this family in finding a loving, nurturing, patient and kind nanny who will be engaging and is great at open communication.  They would like their new nanny to focus on the baby and be engaging with him each day. This position will consist of mainly caring for the baby with some light household related tasks as time permits.
The schedule is Monday thru Thursday from 6am to 4:30 or 6:30 to 3:30.
The job will be 38 hours per week with guaranteed hours. Initially this position will be for a term of 6 months. When their son turns 1, they would like to reevaluate and possibly extend with the nanny at that point.
The position is offering $17 per hour gross, with guaranteed hours and paid holidays. 
The ideal candidate for this position will be loving, happy, engaging, organized, reliable and has great judgement. They are looking for a nanny who will be consistent, proactive and compassionate.  Dad works outside of the home and Mom works in a home office two days a week, the other two days she is working outside of the home. The Nanny must be comfortable working alongside Mom on the days she is working at home. She will be breastfeeding during breaks while she is home.
Child related duties will include all childcare related duties for their sweet baby boy. The nanny will be responsible for feeding, naps, activities, walks outside, outings (as the baby gets older) and age appropriate developmental activities daily. The family would like someone who will keep a daily log to maintain excellent communication and someone who will be engaging and enjoy reading and singing to their baby.
Household responsibilities will include children's laundry and linens, light house cleaning such as making sure kitchen is wiped down, load/unload dishwasher, preparing baby food, vacuuming/swiffering common areas where baby is often on the floor, tidying and keeping things organized and neat as needed. This family does have a house cleaner who comes twice a month for deep cleaning. Both parents are very clean and organized so they would like those same qualities in their Nanny. 
Nannies!!! This baby is a DREAM! He is so cute and smiley and an overall super easy baby. Your days with this little guy will be filled with so much fun, love and snuggles!  His parents are easy going and enjoy open communication. They are looking for a nanny who is consistent, gentle, and will LOVE coming to work each day. They are very excited to meet their new nanny!
To be considered for this fantastic opportunity please email your resume to trisha@nannyjoynt.com please use Reference code – TNJFT84  in the subject line. Interviews will begin ASAP.
---
Location
---