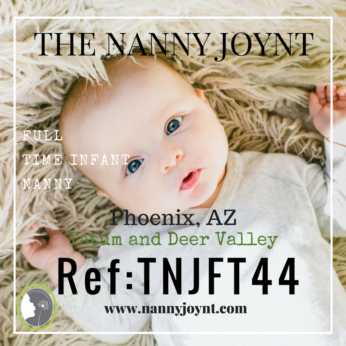 Ref Code: TNJFT44 Incredible nanny for infant in Desert Ridge
Nanny
Tatum and Deer Valley
Posted 2 weeks ago
Description
Incredible nanny for infant in Desert Ridge
Location: Deer Valley and Tatum
Start Date: End of April 2018
Ref Code: TNJFT44
The Nanny Joynt is excited to share a wonderful full time nanny position available in North Phoenix with one infant who is due 2/14/18! This family with dual working physician parents  are seeking a Full Time Nanny to join their family to help care for their  baby boy when they go back to work.
The schedule for this position will be 3-4 days per week (M, T, W, F) from  7:30am – 6:30pm with a guaranteed 40 hours per week averaged over the month. They will need the nanny they hire to be flexible as dads schedule can be any day/any time of the week. Mom works a more set schedule M, T, W, F.
This position is offering $17 – $20 per hour (determined on experience, education, and training), paid holidays, earned PTO,  mileage reimbursement and guaranteed hours!!
This sweet and easy going family is looking for a nanny who will become part of the family and an integral part of their child's life! The ideal nanny for this family is someone who is experienced with infants, is passionate about children and her career in the childcare field, nurturing, organized and neat, reliable/punctual, and energetic! Someone who is happy to show up to work everyday and genuinely enjoys spending time with their baby boy. Their perfect nanny enjoys helping a little one reach their developmental milestones and actively engages the baby throughout the day. They prefer a nanny who can stick to a schedule and effectively communicate the days activities with them. It would be a bonus if the nanny they hired had an educational background in early childhood development!
Child related duties will include overall care of baby including but not limited to: feeding, diapering, bathing, facilitating a healthy sleep/nap schedule, helping baby hit each developmental milestone, playing/reading, walks, (when the baby is older) outings to baby classes, playgroups, parks, zoo, arts and crafts etc. Cleaning up after self and baby, washing all bottles, laundry, maintaining the nursery and ensuring baby items are stocked and organized. This family prefers the baby does not watch TV or have screen time.
Household responsibilities will include cleaning up after self and baby, washing all bottles, baby laundry, maintaining the nursery and ensuring baby items are stocked and organized. Load/ unload dishwasher, light occasional family meal prep. This family enjoys a neat and tidy home and prefers a nanny who enjoys the same.
This family has a sweet yorkie poo who will need to be let out throughout the day 🙂
These parents  are so excited to become parents and welcome their little one to this world! This is a wonderful opportunity for a nanny who is seeking a long term position with a loving and very gracious family! They want their nanny to feel valued and appreciated and like a member of the family. They are fun and easy going and are excited to meet a wonderful nanny to join them in raising their baby boy!
To be considered for this fantastic opportunity please email your resume to trisha@nannyjoynt.com please use Reference code – TNJFT44  in the subject line. Interviews will begin ASAP
---
Location
---