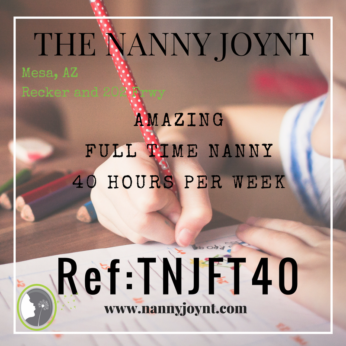 Ref Code: TNJFT40 – Family Assistant Wonderful Family in Mesa
Nanny
Recker and 202
Posted 1 month ago
Description
Reference Code: TNJFT40
Incredible Part time Family Assistant Mesa
Start Date: ASAP
202 and Recker
We are working with an incredible family with 4 adorable children ages 5, 5, 3, 2 who is seeking a highly organized and proactive nanny/household manager to join their team! This family homeschools their bright children and they are seeking a nanny who can assist with the day to day activities and keeping the home clean, organized and running smooth. The schedule for this position will be 3 days per week preferrable M, W, F (flexible on days) 9/10am – 5/6pm.
This family is offering $16-$18/hour with guaranteed hours, paid vacation, paid holidays and paid sick time!
Mom does all of the homeschooling and dad works from home. Nanny must be comfortable working in a home with highly involved parents and working as a true team. This family really respects the role of the nanny and will be supportive of their nanny and encourage a happy and healthy working environment.
The ideal candidate will be organized, self motivated, open to take care of household related tasks as they come up. Bonus if you have teaching experience and enjoy creating a fun learning environment! The majority of the position will be household management as the parents would love to free up their time so they can spend more time with their children. This home has a beautiful balance of education and creative free play time and the children are thriving! You MUST be a proactive and organized nanny to succeed in this role. They prefer someone who can take initiative to be helpful rather than waiting to be asked to do something.
Child Responsibilities: Breakfast, getting children dressed and ready for the day, feeding meals and snacks, working with the children on school work  (mom typically works with two while the nanny works with the other two), educational activities/ art work/outside play, puzzles, flashcards, reading, nap time, outings with the family to various fun places such as the aquarium, zoo, museums etc.
Household Responsibilities: Family's laundry, general tidy of the home (helping children clean up after themselves), maintaining clean and organized child areas, cleaning up after meals/snacks, sorting drawers to remove clothing that is too small, changing children's bedding weekly, wipe down and clean up of kitchen, load and unload dishwasher, take out trash, vacuuming/swiffering as needed.
This family does have one dog (a pug) and will ask for occasional feeding/water/and letting the dog outside.
They are looking for a long term commitment of a minimum of 1 year but would ideally love to find a nanny to join their family for many years to come!
Nannies this family is AWESOME!!! Super involved and loving parents who are invested in their children and have a beautiful and loving home environment! When I was meeting with them I honestly said multiple times "I want this Job!!!!" Mom and Dad are wonderful communicators and very easy to talk to. They are looking for a nanny to become part of their family to be vested in their children's lives and be a part of their team to help the children reach their goals and accomplishments. This family understands how important and valuable the role of the nanny is want to make sure their nanny is happy doing their job everyday. They prefer a career nanny who has a genuine love and passion for what she does and is open to and enjoys the household aspect as well!
Communication is very important to this family to ensure their nanny is happy and able to be her best with the children.
If you are interested and meet the requirements above, please email your resume to trisha@nannyjoynt.com with "TNJFT40" in the subject heading.
---
Location
---