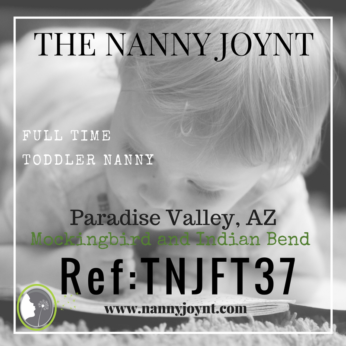 Ref Code: TNJFT37 Paradise Valley Career Nanny
Nanny
Indian Bend and Mockingbird Paradise Valley, AZ
Posted 5 months ago
This position has been filled
Description
Full time Nanny for Toddler
Start Date: ASAP
Crossroads: Indian Bend and Mockingbird 
Ref Code: TNJFT37
Dream Career Nanny Position!!! The Nanny Joynt is excited to share an incredible opportunity for a top notch and experienced professional nanny. We are working with a wonderful family with a professional father and loving and involved stay at home mom seeking a full time nanny for their happy and well adjusted 3 year old son.
The schedule for this position will be as follows:
Evenings from 4pm-8p(ish) and three weekends a month.  Two consecutive days off will each week will be given most weeks to compensate for weekends worked.  They need a nanny who is able to travel with them for extended weekends to two weeks at a time.  This is a full time position and they would like whomever they hire to work for their family exclusively as flexibility is key!!
Weekends will begin Friday between 12pm – 7pm and the nanny will be on until Sunday at 8pm.
The incredible career position is offering $18-24/hour based upon experience with guaranteed hours,overnight/travel compensation, overtime pay, earned PTO, paid holidays (time and a half if working a holiday), health insurance stipend, and use of family car!
The ideal candidate for this position is someone who has wonderful experience caring for toddlers and working as a team! Candidate MUST work well with others and be comfortable working with an involved stay at home mom or on her own. There is also another nanny, a household manager and a housekeeper so it is very much so a team environment. The ideal person for this position has strong initiative, is self motivated and happy to help where needed. Someone who is kind, nurturing, loving, extremely safety cautious with an impeccable driving record is preferred. The ideal person for this position will have a bright and positive disposition, enjoy her career as a nanny and working with children, be extremely organized and enjoy travel!
Nanny must be comfortable swimming and taking the toddler swimming.
Child related duties Comprehensive care for the 3 year old boy including but not limited to getting him up and ready for the day, feeding breakfast, taking to activities/school, playing, reading, taking him swimming, educational activities, feeding lunch,snacks and dinner. Bath and bedtime.
Household responsibilities will include general cleaning up after self and child, making beds, child/some household laundry, ironing and steaming, maintaining a clean kitchen, load/unload dishwasher, swifering the floors, keeping all child related areas clean and organized, cooking for the child and simple family meal prep. This family does employ a household manager and a housekeeper however the ideal candidate will be happy to help where needed as they will have a lot of down time while the child is at school or out with mom.
Seeking long term commitment.
This is a wonderful opportunity to work with a happy and fun family who genuinely cares about the people who are in their home. The little boy is super sweet and a really great kiddo! This position can provide the right nanny with an incredible career position for many years to come!
To be considered for this fantastic opportunity please email your resume to trisha@nannyjoynt.complease use Reference code – TNJFT37 in the subject line. Interviews will begin ASAP
---
Location
---