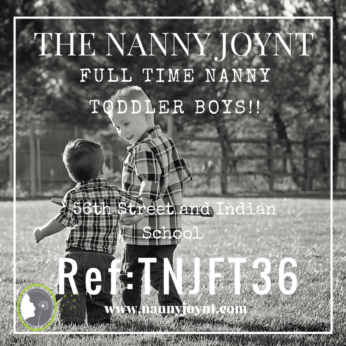 Ref Code: TNJFT36 Full Time Nanny Phoenix
Nanny
56th Street and Indian School
Posted 1 month ago
This position has been filled
Description
Reference Code: TNJFT36
DREAM FAMILY!!! Full time in Phoenix
38.5 hours per week
Start Date: ASAP
56th Street and Indian School
The Nanny Joynt is beyond excited to share an incredible opportunity to work in a fabulous home with a wonderful family who have 2 sweet boys ages 2 and 4! This is a family where mom works part time and dad owns his own business. The schedule for this position will be as follows:
Monday 11am – 6pm

Tuesday 8:30am – 5:15pm

Wednesday 8:30am – 5:15pm

Thursday 11am – 6pm

Friday 11am – 6pm
They would love to hire a nanny who enjoys travelling and would be open to spending 3 week during the Summer at their beach house is Montauk and traveling to other fun destinations during the year! They would also like some flexibility should they need date night coverage or short overnights stays here in Phoenix. 
This position is offering $17.00 – $18.00 NET per hour with guaranteed hours, paid PTO, paid vacation as well as paid holidays!
The boys are both very happy, sweet, and well behaved! They are very social boys who enjoy spending time with others. Both boys attend preschool part time. It is very important to this family to find a nanny who has a true love for children, someone who enjoys engaging the children in fun and educational activities, and someone who will have a vested interest in the boys and their well being. Their ideal nanny will be proactive and thoughtful in their play creating stimulating and fun activities and outings for the boys. This family encourages outings and playdates with other nannies!!!
The ideal candidate for this family will be mature, experienced have have a strong sense of character. Someone who is social and outgoing would be best with this family. Ideally the nanny they hire will have a strong work ethic and be someone who is happy to assist where needed.
Mom and dad both work in and out of the home so it is extremely important that the nanny they hire be comfortable working when parents are home and working in a team environment as mom will at times join in on outings when she can.
Child related responsibilities: Comprehensive care for the children from the morning routine, getting children ready for the day, diaper changes/potty training when the time comes, preparing and feeding meals and snacks, nap time, playtime, reading, singing, engaging in educational and stimulating activities/outings.
Household related responsibilities: Family laundry, making beds, general tidy, meal prep on occasion (simple), vacuuming/sweeping common areas, load/unload dishwasher, maintain clean and organized child related areas and pick up after self and child, grocery shopping, and errands.
This family does have one indoor cat.
Ideal candidate for this position is a nanny with a fun and friendly personality, a huge heart, and great communication skills. Someone who wants to see the children in their care succeed.. Reliability and trust are both key traits that are extremely important.
This is seriously such a sweet and laid back family and will be a unicorn family for whoever they hire!!! This position offers a wonderful and consistent work schedule in a clean and loving home with two of the sweetest boys!! The are excited to find a nanny who will become a member of not only their team but their family! They have had their current nanny for the past 3 years and have had a wonderful relationship with her!
They are looking for a minimum of a 1 year commitment!
If you are interested and meet the requirements above, please comment below and email your resume to trisha@nannyjoynt.com with "TNJFT36" in the subject heading.
---
Location
---