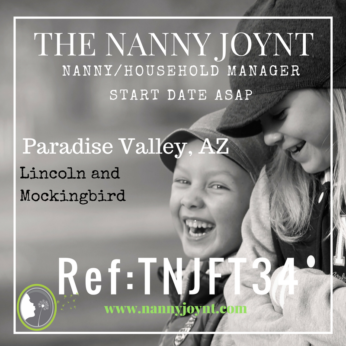 REF CODE: TNJFT34 – Paradise Valley Nanny/Household Assistant
Household Manager
Palo Christy and Lincoln Paradise Valley, AZ
Posted 2 months ago
Description
Nanny/Household Manager for dynamic and fun family in Paradise Valley
Lincoln and Palo Christy
Start Date: ASAP
Ref Code: TNJFT34
The Nanny Joynt is working with a great family with busy professional parents with 2 well behaved and sweet children ages 8(B) and 6(G). We are assisting this family in finding a FUN, nurturing, responsible, positive and self motivated nanny/household manager. This position will be a mix of assisting with the children or helping out with household/personal assistant related tasks.
The schedule for this position will be: Total 32 hours per week They are able to adjust hours if needed; an hour or two +/- Monday and Tuesday would also work.
Saturday
 evening every other
This family is open to live in or live out and offer a beautiful 1 bedroom, full kitchen and living room detached guest house on their property!!Live-in hours would be in the morning 6am-8am and 2pm-8pm.
The position is generously offering $18-19/hour
 during first 120 days  (regular pay increase intervals based on performance every 120 days with ability to make up to $24/hour)
with guarantees hours, earned PTO, health and dental insurance , use of family car and a health club membership to the Village!!!
 The ideal candidate will be available to cover school breaks, half days and care for the children if they are sick. Candidates who apply for this position will enjoy traveling and be able to travel both nationally and internationally with the family on school breaks, and during the summer. Mom and the kiddos LOVE to travel and explore the world and dad prefers to stay back so mom will often bring the nanny along for an extra set of hands.
The position is generously offering $18 – $22/hour with guarantees hours, earned PTO, health and dental insurance, use of family car or mileage reimbursement, and a health club membership to the Village!!!
The ideal candidate for this position will be a super upbeat and happy, engaging, effective at multi- tasking and managing the children and overseeing household projects, organized, and a true team player happy to pitch in where needed. This is a busy household and mom is looking for some assistance to keep things running smooth. They will be doing some renovation projects and the nanny will be needed to oversee contractors to ensure things are being done correctly. Someone who can be assertive with other household contractors and service people is needed.
Child related duties will include care for their 2 fantastic children ages 8 and 6. Picking the kids up from school, home for a snack, homework, after school activities such as dance, gymnastics, swimming, tennis and soccer! Preparing kids lunches and dinner, assisting with showers/bath and bedtime. The nanny will also be needed to assist with birthday party planning, taking the kids to appointments, shopping/wrapping gifts for parties, organizing child related areas, shopping for clothing or other child related items as needed. The children are very responsible and thrive on their schedule. It is ideal for the nanny they hire to be able to follow and maintain the schedule. Continuing the children's liking to chores and cleaning up for themselves is a must. Mom has worked very hard to raise polite /responsible children and would love to keep it going!
Household/personal assistant responsibilities will include general household (sheets/towels) and children's laundry, light ironing, organizational projects, light housecleaning, swiffer the floor in the main areas,  errands/grocery shopping, light meal prep, dry cleaning, picking up and sorting mail, paying bills, packing/unpacking for trips as well as for renovation projects, oversee car detailers, taking cars in for maintenance as needed, research and gather quotes/bids for projects. This family does employ a housecleaner so it will not involve deep cleaning.
This family does have one super sweet and loving large dog who will enjoy short daily walks if weather permits. He will need fed daily and the nanny will make sure he has water 🙂 Doggie lovers only please!
This family would prefer a long term commitment for years to come!
Nannies this is a DREAM job for the right candidate who is uber organized, FUN, upbeat and loves making lists and getting things done! This is a wonderful family who have had great nannies in the past who have become part of the family. They are respectful and treat their nannies like GOLD! The children are super polite, well behaved and really cool kiddos!  They are excited to meet a new nanny who can be a great help and make a lasting connection with the kids! This position will be very consistent with the schedule and expectations will always be clearly laid out. If you possess all the qualities above and are ready to work with a really great family please send your resume to trisha@nannyjoynt.com REF CODE TNJFT33!
---
Location
---