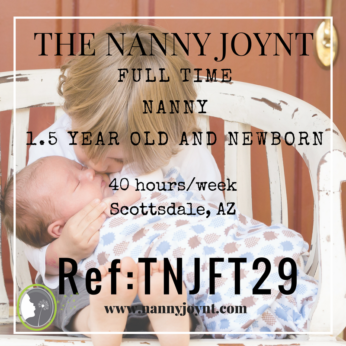 Ref Code: TNJFT29 – Full Time Nanny Scottsdale
Nanny
Cactus and Hayden
Posted 10 months ago
This position has been filled
Description
AMAZING opportunity for Full time nanny Scottsdale
Start Date: May 2017  
Ref Code: TNJFT29
Hayden and Cactus
The Nanny Joynt is working with a wonderful family with a happy and outgoing 1.5 year old boy and a baby girl expected in June 2017.  We are assisting this family in finding an outstanding full-time nanny to join their family. The anticipated schedule will be Monday – Friday 8:00 am – 4:00 pm for a guaranteed schedule of 40 hours per week. This family would love the option to bring their nanny along on family vacations if she is available. They would like for their nanny to be available to be on call for a possible overnight or two when mom has the new baby and they are at the hospital in June.
The position is offering $15.00 – $17.00/hour plus paid vacation, paid holidays, use of family car and guaranteed hours.
This family is looking for a nanny who is truly passionate about childcare, loves teaching and engaging with young children, is energetic, someone who is creative and organized and can plan and implement daily activities and outings with their son. They would love for their nanny to take their son to music class, swim class, library storytimes, parks, the zoo, playdates, and more!
The perfect nanny for this family will be an excellent communicator, honest, takes initiative, is open to feedback and most importantly LOVES being active and engaging with children! They use love and logic techniques and would be happy to teach their nanny that approach.
Mom works from a home office and will be on maternity leave for a few months after the baby is born. She is super friendly and easy to get along. They have a wonderful guest house set up for the children with toys and is a great space to play and have fun!  Dad works in an office nearby and would LOVE for the nanny to pop by on occasion with their son to have lunch!
Child related duties will include overall care for the 1.5 year old and assisting with the newborn while mom is on maternity leave. Once mom goes back to work it will be overall care for both children. Mom will be working from home therefore the baby can stay with her while the nanny takes the toddler on outings. Care will include  preparing and feeding meals and snacks, following a set schedule for the children, changing diapers/potty training, planning and facilitating age appropriate activities and outings to help the children develop mentally, physically and emotionally as well as hit developmental milestones, playtime, reading, keep daily log of diaper changes/meals/activities/etc.
Household responsibilities will include children's laundry and occasional help folding family laundry, cleaning up after meals and activities, cleaning/organizing toys and children's areas, occasional errands, grocery shopping, loading and unloading the dishwasher, keeping a list of items that might be running low ie diapers, wipes, etc. This family has a beautiful and very tidy home and a nanny who is very organized and neat would be the best fit.
This is a wonderful family with two very loving, fun, and easy going parents who want the best for their children. They are a warm family who happily welcomes people into their home and they are excited to find their perfect nanny to assist with babies! Nannies!!! This is a "unicorn" family and will be an incredible position for whoever lands this job!
To be considered for this fantastic opportunity please email your resume to trisha@nannyjoynt.com please use Reference code – TNJFT29  in the subject line. Interviews will begin ASAP
---
Location
---