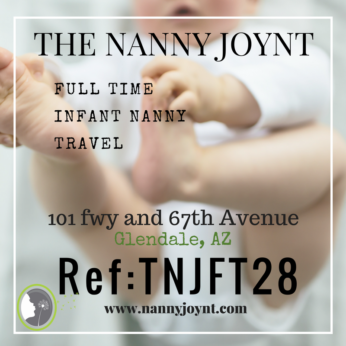 Ref Code: TNJFT28 Full time infant nanny
Nanny
67th avenue and Tonopah Glendale, AZ
Posted 8 months ago
This position has been filled
Description
Reference Code: TNJFT28
Full time nanny infant boy
Start Date: April 2017
67th Avenue and 101
The Nanny Joynt is excited to share an incredible opportunity to work with a wonderful family with a 5 month old baby boy. This family is seeking a committed, flexible and professional nanny to join their family and assist with the baby and some household related tasks. Mom works long hours in the medical profession and Dad works from home. The Schedule for this position will be Monday – Friday 7am – 5pm (with flexibility to stay late on occasion if needed). They would love it if the nanny they hire was flexible and open to working a few hours on Saturday when needed. This family will need a nanny who is available to travel with them during the summer for the month of July and September as mom's job will be taking them to different states this summer.
Rate offered for this position is $18 – $21/hour with paid vacation, paid holidays, use of family car and guaranteed hours for up to 40 hours per week! Commitment through March 2018
The ideal candidate for this position is a career nanny with recent infant experience who has a love and passion for working with busy professional parents. They would love to find a nanny who is knowledgeable on baby milestones and early child development. They would also like for their nanny to be proactive and helpful with basic household related tasks to keep the home running smooth.
The perfect nanny for this position will be a flexible and committed nanny with a love and passion for her chosen career as a nanny. Bilingual nanny is preferred but not required.
Childcare related tasks: Comprehensive care for the sweetest baby boy currently 5 months old, including feeding bottles and solids when the time comes, assisting with baby food prep, maintaining a healthy schedule, diapering, playtime, reading, singing, walks, outings to gym class or swim class, working with the baby on developmentally appropriate activities and helping the baby reach each milestone. Maintaining a daily log to effectively communicate the baby's day with the parents.
Household related tasks: The household related tasks will include baby laundry, dishwasher,  maintaining clean and organized baby related areas, going through closets/drawers to weed out clothing that no longer fit, making sure all baby items are stocked, grocery shopping, scheduling appointments as needed, errand running, occasional pet care, and simple meal prep. This family does employ a housecleaner but would love assistance keeping the house organized and running smooth.
This family does have two high energy and loving vizslas who are approx 45lbs! It is important for the nanny they hire to be a dog lover! The nanny may be needed to drop the dogs off at doggie camp, throw a ball in the backyard while the baby is napping or dog sit when the family is traveling.
Mom is allergic to cats so unfortunately if you own a cat you cannot be considered for this position.  
Nannies this is a dream job!! This family is so laid back and down to earth. The parents are super easy to talk to and understand appreciate the role the nanny will play in their son's life! They are excited to welcome a wonderful nanny to their family!
If interested, please comment below or email your resume to trisha@nannyjoynt.com with "TNJFT28" in the subject heading.
---
Location
---