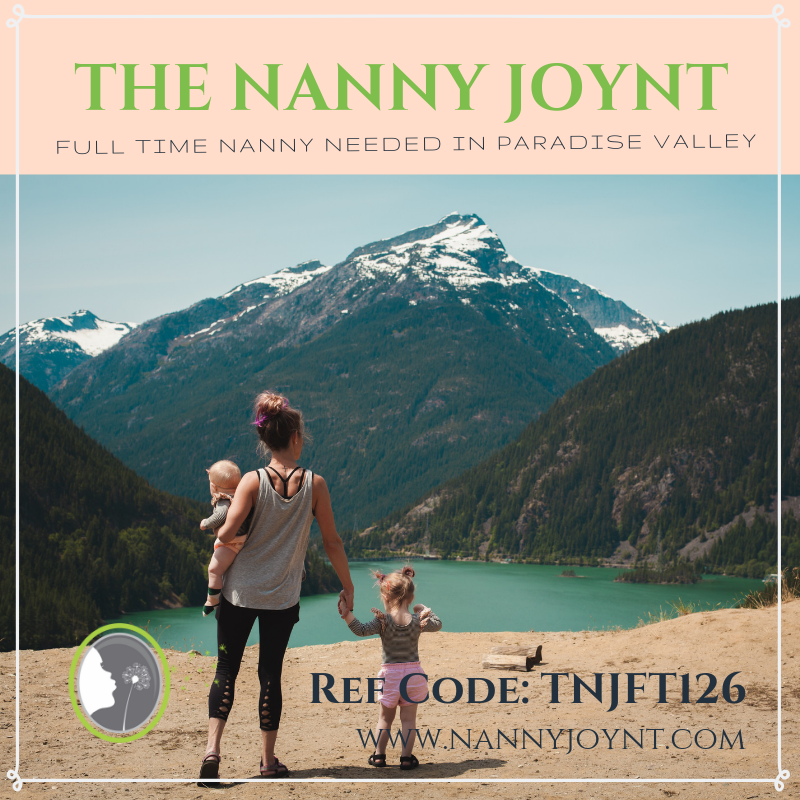 Ref Code TNJFT126 – Flexible, Reliable Nanny Needed in Paradise Valley
N Tatum Blvd and E Shea Blvd
Posted 5 months ago
This position has been filled
Description
Flexible, Experienced Nanny Needed in Paradise Valley
Location: N Tatum Blvd and E Shea Blvd
Start Date: April 1, 2019 (part time) Full time May 1st
Ref Code: TNJFT126
The Nanny Joynt would like to share an amazing nanny position working with a great family who has two sweet little girls.  Their oldest daughter is 3 years old and very energetic. She is bright, helpful and independent.  She does attend preschool 5 days each week from 9am – 5pm. The 3 year old does have an allergy to bell peppers and carries an Epipen Jr in case of an emergency.  A nanny who is comfortable using an EpiPen is needed for this position. Their youngest little girl is 5 months old, she does not currently have any known health issues. She will be attending swim class in the summer months. She is just now beginning to become very alert and discovering the world around her.  This family is seeking a nanny who is proactive, energetic and able to keep up with the girls as they grow. Their new nanny needs to be flexible as the hours for this position will be irregular due to mom being an ER doc. Someone who is engaging, gentle, easy to communicate with, loving, kind and has motherly qualities would be ideal. A nanny who is flexible with the schedule is a must! A bilingual (Spanish) nanny is preferred however not required. 
This position is offering $20 per hour, with a guaranteed 40 hours, time and ½ for hours worked over 40, 10 paid vacation days, 5 holidays and sick time. The family is also offering mileage reimbursement. 
The schedule is irregular and will require weekly flexibility: (we have the schedule for April, May and June so you can see an example of what the schedule will look like)
Weekdays, weekends, days and nights (not typically overnight) are all possible.  On average Mom will be working 2-3 shifts per week (at different times of the day) and 2-3 weekend days a month.  Hours will vary and can include early start times (4:30am) or finishing late at night (2:00am). For most months the family will travel to Flagstaff for one week for work, the nanny may be asked to come with the family on occasion. The family is open to the nanny not traveling with them, in which case the nanny will be paid 75% of her pay for that week.  There will be no childcare duties on those weeks however they may ask for some household tasks. The schedule will be provided at least one month in advance.
The ideal nanny for this position will be reliable, calm, educated in taking care of children, attentive, engaging and proactive.  This position will at times require drop off and pick up of their oldest daughter from preschool.  Mom and Dad both work outside of the home and need their nanny to be reliable, responsible and safety conscious. A nanny who is hands on and someone who will take comprehensive care of the children is needed for this position.
Family requires the nanny they hire to be up to date on all vaccinations. They are willing to pay for any vaccines needed to get their nanny up to date.
Childcare related duties including but not limited to:
All childcare related tasks, diapers, preparing bottles, washing bottles, making meals, making baby food

Naps, bedtime routine, baths

Sanitizing baby items, laundry, organization of all child areas

Maintaining organization and making sure the children's needs are taken care of efficiently

Helping the girls meet developmental milestones, educational activities

Reading, talking and engaging with the baby each day

Help maintain a good routine and schedule, planning activities and being active with the girls

Packing and unpacking for trips
Household responsibilities will include, but are not limited to:
Sweeping, Swiffer, vacuum, keeping all areas clean and in order

Family laundry

Errands, grocery shopping

Easy family meal prep and meals

Watering plants

Wiping counters and kitchen areas, cleaning up after meals, taking out trash

Loading/unloading dishwasher

Organizational projects

Family does have housecleaner who comes 2 times each month for deep cleaning.
This family is seeking a nanny who will go the extra mile while taking care of their family. Someone who is kind and will genuinely love their girls like their own.  A nanny who really wants to be at their home, who is interested in engaging the girls and watching their personalities grow. A nanny who will foster a nurturing and happy home and provide the girls with the best possible care.  These parents are fair, fun and easy to communicate with. They want to find a nanny who will really become a part of their family and feel welcomed and loved.
This is a great family who has a relaxed home and great environment!  The family is kind and wonderful to be around. They enjoy communicating with their nanny and would like her to feel comfortable in their home and feel like she is part of the family.
They are seeking a long term commitment 1 year +++.
To be considered for this fantastic opportunity please email your resume to trisha@nannyjoynt.com please use Reference code – TNJFT126 in the subject line. Interviews will begin ASAP
---
Location
---