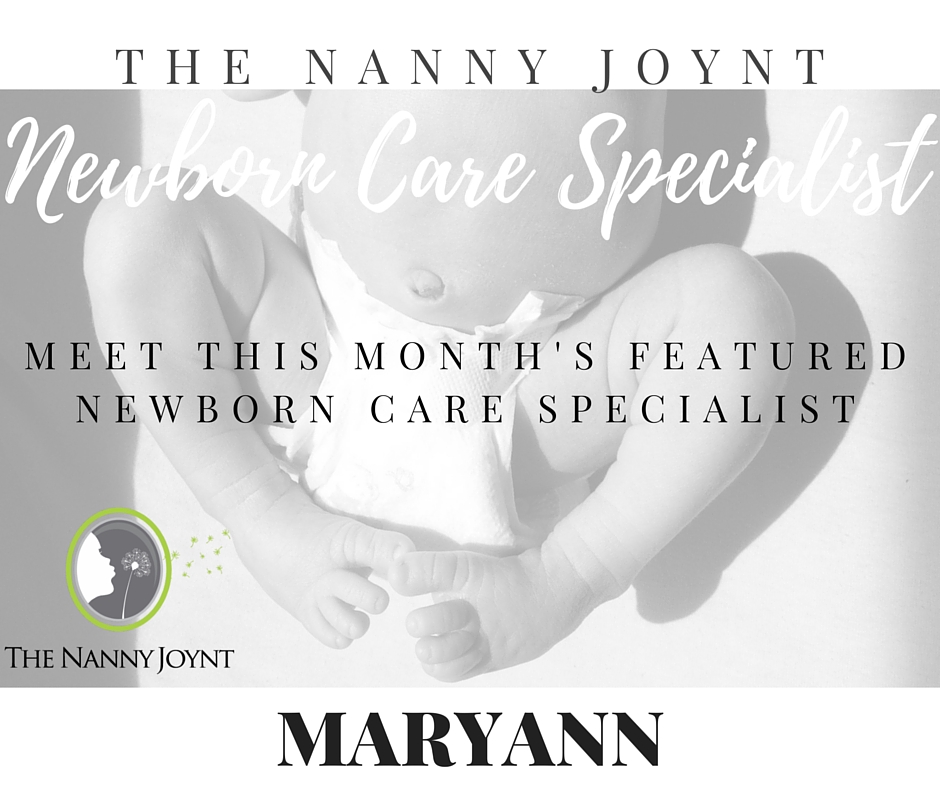 Meet Maryann! We are so excited to share with you some information about Maryann one of our highest requested Newborn Care Specialists. Maryann has been with our agency since we opened our doors just over 5 years ago and she has been outstanding ever since. Maryann has such a gift for working not only with the babies she care for but also the parents which is equally important as a newborn care specialist. Maryann is available for both Nighttime and Daytime shifts and can assist with many things including but not limited to gently getting your baby (and you) to sleep through the night, doula support, lactation support and so much more! If you are expecting a sweet bundle I highly encourage you to meet with Maryann to see how she can help make the transition to parenthood smooth and restful!
Get to know Maryann:
I have a passion for providing quality newborn care so I continue to advance my knowledge by attending trainings each year. This is important when working with birth-3 months. There are always new things to learn and each training offers a different approach to important things we need to know as Newborn Care Specialists. Some of the things I enjoy learning more about are working with breastfeeding mothers, communication with parents, sleep conditioning and the best newborn related products on the market. I have also created a support group for NCS on Facebook which has close to 700 members. This also keeps me very busy and is amazing to network with   the very best in our industry.
I always enjoyed working in the home as a Professional Nanny for 14 years before focusing on newborns. Part of what I enjoyed was becoming an extended part of the family. I enjoy working as a team with parents and supporting them through the newborn stage now. I enjoy guiding families and being able to answer questions when families may have them. It is also very easy to love babies. I feel I have a natural ability to soothe and make a newborn feel safe and comfortable. It also is rewarding to know I've helped a family get their baby on a good schedule and helping to have their baby sleeping through the night by 12 weeks.
I enjoy working with all types of family dynamics. I am also a non judgmental source and very flexible with my approach. I can work part time and full time and try to meet each family's needs. I am a trained CAPPA Postpartum Doula and Lactation Educator as well who is working towards my certification.   I love traveling to clients around the United States and also working live in short term jobs. I am a supporter of both breastfeeding but can make suggestions on good formulas to use as well. My background consists of a Degree in Early Childhood Education and MANY trainings, conferences and workshops over the past 20 years. I have also been fortunate to work with multiples; twins and quintuplets. My career has also given my the opportunity to work with some special needs newborns. Each family is unique and I'm always fulfilled a little more with each new family I get the opportunity to work with.
If you would like to meet with Maryann to see if she might be a good fit for your newborn care needs please reach out to The Nanny Joynt today! https://nannyjoynt.com/contacts/
Interested in learning how you can become a Newborn Care Specialist and start and exciting career caring for babies? Check out our amazing foundational NCS training course offered here at The Nanny Joynt. You can take the course online at times convenient for you!