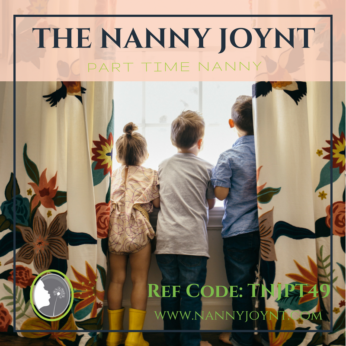 Ref code: TNJPT49 – Part Time Nanny for 3 Great Kids!
Nanny
Tatum and Deer Valley
Posted 3 months ago
This position has been filled
Description
Nanny for great family in Desert ridge
Start Date: July 2018
Ref Code: TNJPT49
The Nanny Joynt is working with a wonderful family with 3 sweet children ages 8(B), 6(B) and 3.5(G). We are assisting this family in finding a loving,  energetic and engaging part time nanny. This position will consist of mainly caring for the children with some light household/family assistant related tasks. The ideal schedule for this family is M thru F from 6:30am – 9:30am/10:30am. The end time can vary from day to day or be a set 15/20 hours per week if the nanny prefers.  If you are interested in only the permanent part time position or want to apply just for the temporary summer schedule please let us know when applying.
This position will be full time M thru F 6:30am – 6:00pm the following weeks:
July 16 – 20

July 23 – 27

July 30 – Aug 01
The position is offering $20.00/hour gross, paid vacation, paid holidays, guaranteed 15 hours per week and mileage reimbursement!  No car is needed for taking the children to and from school as they can walk.
The ideal candidate for this position will be happy, engaging, effective at multi- tasking and managing 3 active children, organized, flexible, and has good judgement. This is a busy household and the parents are looking for some assistance to keep things running smooth.
Child related duties will include care for 3 children ages 8, 6, and 3.5. During the Summer months the nanny will have all three children although the boys may be signed up for Summer camps at times.  Nanny will be responsible for helping children get ready for school, preparing and feeding nutritious breakfast, making sure they have water/snack if needed. Transportation to school will also be needed.  Nanny MUST have a car that will fit two boosters and a 5 point harness car seat. Mom has an accord and they fit great in there.
Household responsibilities will include children's laundry, light house cleaning such as making sure kitchen is cleaned up after the morning chaos, load/unload dishwasher, changing bed linens, errands/grocery shopping, simple meal prep, tidying, letting dog in/out and helping the kids clean up toy areas and children's rooms.
This family does have a very sweet 13 year old dog. The nanny will be asked to let her in/out as needed and make sure she has water during the day.
This is a fun and friendly family with great kids!They enjoy a lot of laughs and are very excited to meet their new nanny who they hope will become an active part of their family!
They are looking for a long term commitment of 1 year minimum.
---
Location
---