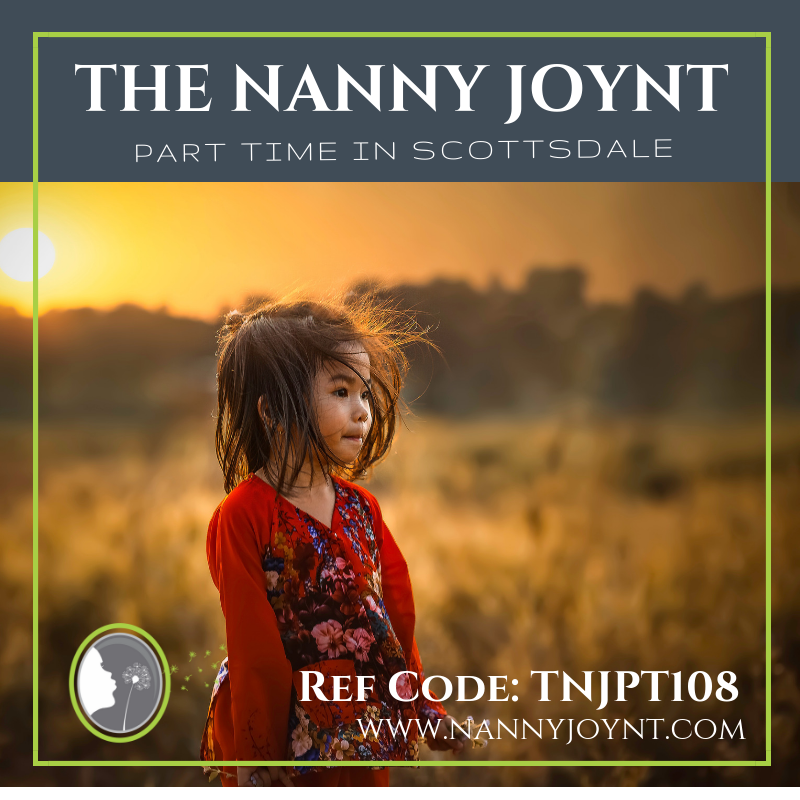 TNJPT108 – Sweet, Caring Family in Scottsdale Seeking Part Time Nanny/Mother's Helper
56th and Bell Rd
Posted 5 months ago
This position has been filled
Description
Attentive Nanny/household mgr for Sweet Little Girl  
Location: Bell Rd and 56th
Start Date: ASAP
Ref Code: TNJPT108
The Nanny Joynt is thrilled to share a wonderful part time nanny/mother's helper position available with one sweet little girl! Their daughter is 14 months old and enjoys being active and playing.  She is a happy girl who is high energy, fun and adorable!   A nanny who is confident, comfortable, loving and hands on would be ideal. Mom is a stay at home mom, so their nanny must be comfortable working alongside Mom and helping out wherever needed. Mom will be in and out of the home and will take their daughter to her scheduled classes during the week.
This position is offering $20 – $22 per hour, guaranteed hours, paid holiday, PTO after 90 days.  The ideal schedule for this position will be:
Monday, Wednesday, Thursday, Friday 12pm – 5pm for  total of 28 hours per week.
This sweet family is looking for a nanny who is extremely gentle, experienced and loving.  They want their little girl to be loved on and really cared for. The nanny should be educated in Early Childhood Development, confident in taking care of their daughter, patient and some experience with gentle sleep conditioning would be great!  They want their nanny to be attentive, active, hands-on, laid back, calm, patient, organized, self driven & motivated. The ideal nanny for this family is someone who is experienced with taking care of children, is passionate about her career in the childcare field, nurturing, proactive, and is adaptable. Their perfect nanny will enjoy helping their little one reach her developmental milestones and actively engages her throughout the day. They prefer a nanny who will make each day fun and effectively communicates the days activities with them.  A nanny who works well as a mother's helper when needed is important for this family. This will be the first time this family has hired a nanny, so someone who understands how important making a connection is for them. 
They need a nanny who is confident in caring for their baby if she's sick. She does not get sick often but is a lot for mom to manage on her own when she is sick.
This family has one active and friendly German Shepherd dog who will need some care during the day.  He may need let out, fed or watered while you are there, so a nanny who is ok with dogs is ideal.
Child related duties will include overall care of their daughter including but not limited to: feeding, diapering, naps, helping her reach each developmental milestone, playing/reading, singing and walks. Cleaning up after self and child, baby laundry, maintaining the nursery and being sure she has everything she needs..
Household responsibilities will include cleaning up, load/unload dishwasher, vacuuming/cleaning areas where baby plays. Dishes, organization, possible errands, family laundry and helping out where needed.  They do employ a housekeeper for deep cleaning.
This is a wonderful opportunity for a nanny who is seeking a position with a loving and caring family! They want their nanny to feel valued and appreciated. They are fun and easy going and are excited to meet a wonderful nanny to join them in helping to care for their sweet little girl! 
To be considered for this fantastic opportunity please email your resume to trisha@nannyjoynt.com please use Reference code – TNJPT108  in the subject line. Interviews will begin ASAP
---
Location
---