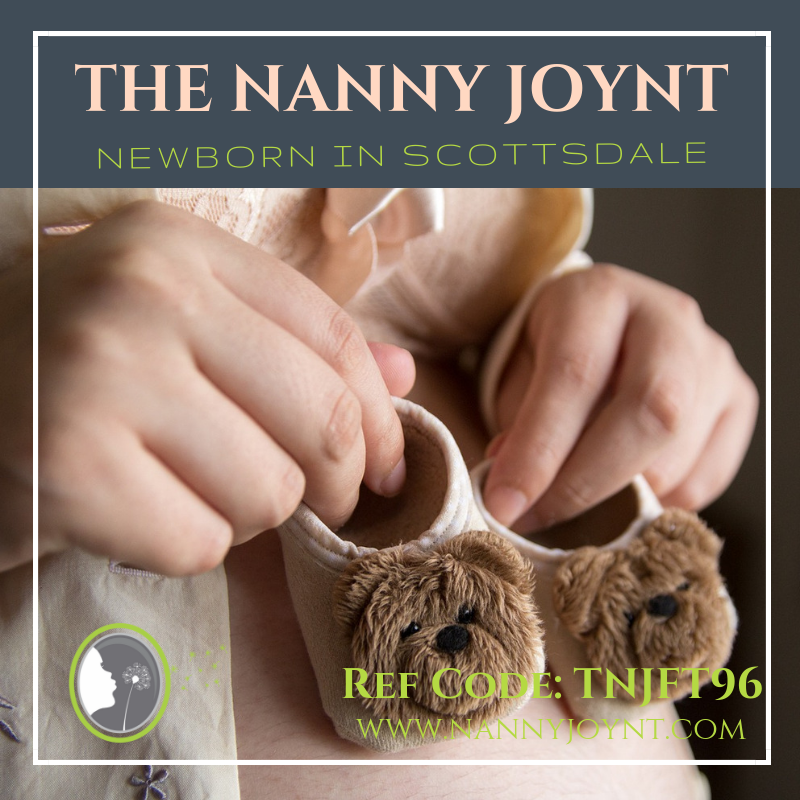 TNJFT96 – Amazing Opportunity in Scottsdale with One Infant Live In/Out
Nanny
Greenway and 60th
Posted 7 months ago
This position has been filled
Description
Attentive Live In Nanny for One Sweet Infant  
Location: Greenway and 60th
Start Date: Jan/Feb 2019
Ref Code: TNJFT96
The Nanny Joynt is thrilled to share a wonderful full time live in nanny position available with one sweet infant! These new parents are looking for an amazing, educated and experienced infant nanny to help with the care of their newborn starting February of 2019.  The baby is due mid January and Mom will be at home on maternity leave for 6 weeks. This family would prefer a live in nanny, however, they willing to consider a live out nanny as well. Their beautiful home has a private second floor with a furnished bedroom, ensuite bathroom, private laundry room and living room for your use if you live in.  The baby's nursery is also upstairs, but the parents master bedroom is located on the first floor of the home.
The schedule for this position will be Monday through Friday 7:00am until 6:00 or 6:30pm.  The Live in position is offering $40,000 per year with guaranteed hours, paid vacation, sick days.  The family does travel frequently throughout the year and would like their nanny to travel with them as much as 3 to 4 short trips per month.  They also take vacations up to 10 days at a time during the year as well. This is an awesome opportunity for a travel ready nanny who is looking to experience the United States with a fun, down to earth, and active family.  They travel to locations such as: Las Vegas, New Orleans, Boston, Atlanta, Orlando, Nashville and more!!! 
This kind and sweet family is looking for a nanny who is extremely gentle and loving.  Their nanny should have infant experience and be able to offer these parents educated advice on the things that are most important when having your first child, breastfeeding, sleep patterns, sleep training, feedings and routines.  You should be able to stock and maintain the nursery and be familiar with the daily routines for a newborn and new parents. The parents work close to home and would love the nanny to bring their baby to the office each day for breastfeeding and to spend some family time with their baby.  This family is kind and cares about their relationships with people in their lives. They want to build a trusting, long term relationship with their nanny for years to come. They would like a nanny who will follow their parental guidelines, but is also willing to do research and know about the science of caring for a newborn.  They want their nanny to be loving, attentive, hands-on, laid back, calm, patient, organized, self driven & motivated. The ideal nanny for this family is someone who is experienced with infants, is passionate about children and her career in the childcare field, nurturing, proactive and is adaptable. Their perfect nanny enjoys helping their little one reach developmental milestones and actively engages the baby throughout the day. They prefer a nanny who will make each day fun and effectively communicates the days activities with them.
Child related duties will include overall care of the baby including but not limited to: feeding, diapering, bathing, naps, helping baby hit each developmental milestone, tummy time, playing/reading, singing and walks. Cleaning up after self and baby, washing all bottles, baby laundry/linens, maintaining the nursery and baby food prep when the time arrives.  There will be some driving of the baby to visit parents at the office and outings when the baby is older.
Household responsibilities will include cleaning up, load/unload dishwasher, vacuuming areas where baby plays. Light housekeeping, maintaining a clean and organized home.  This family does employ a house cleaner who comes every 3 weeks for deep cleaning.
The family does have one dog a pit bull mix who is very laid back and well trained.  Some pet care may be needed as well during the day, feeding, watering, letting in and out.
The ideal candidate for this position will be a great fit with their family, someone who is comfortable and wants to be like part of their extended family.  The number one thing they want to teach their child is to be kind to everyone all of the time, so a nanny who models this in her own beliefs will be a great fit. A nanny who will first and foremost keep their child safe and never raise their voice is a must for this family.  Mom herself used to work as a nanny and she recognizes the importance of the nanny's role in their family. They believe in modeling the behavior they expect. They also believe children need to be taught how to recognize, understand and regulate their emotions. The grandparents live close by and will be involved, so there may be times the nanny will be dropping off the baby to family member so they can spend some time with him as well.
This is an AMAZING opportunity for a nanny who is seeking a position with a loving and caring family! They want their nanny to feel valued and appreciated. They are fun and easy going and are excited to meet a wonderful nanny to join them in helping them raise their sweet baby boy! 
To be considered for this fantastic opportunity please email your resume to trisha@nannyjoynt.com please use Reference code – TNJFT96  in the subject line. Interviews will begin ASAP
---
Location
---