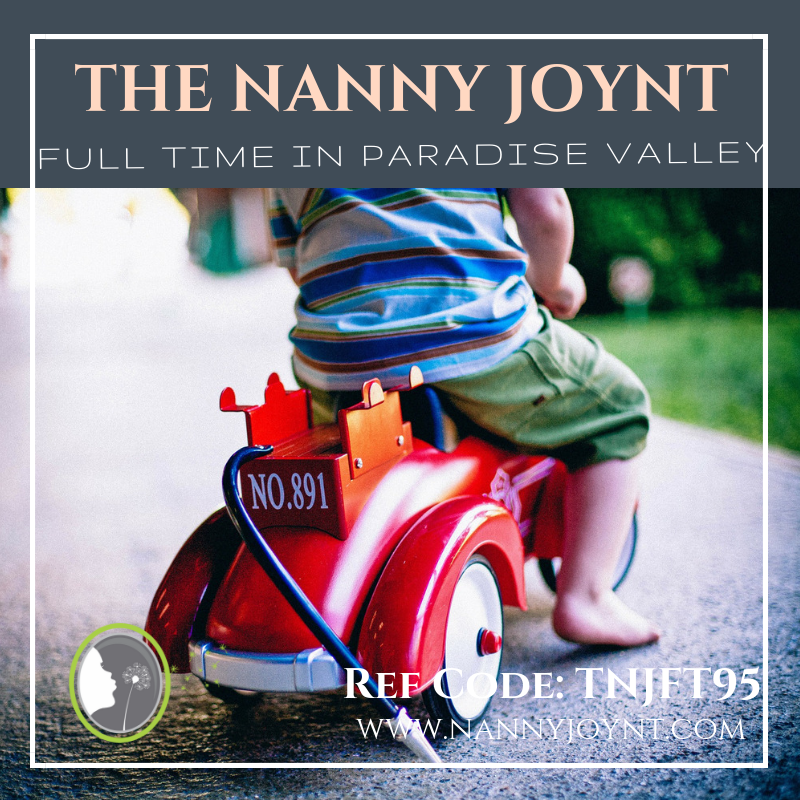 TNJFT95 – Amazing Family Seeking Full Time Nanny in Paradise Valley
Nanny
Invergordon and Camelback
Posted 9 months ago
This position has been filled
Description
Experienced Nanny Needed Full Time in Paradise Valley  
Location: Invergordon and Camelback
Start Date: December 15, 2018
Ref Code: TNJFT95
The Nanny Joynt is thrilled to share a wonderful full time nanny position available with an amazing family relocating to Paradise Valley! This family has one son, he is 22 months old and he loves cars, trucks, trains and anything with wheels.  He enjoys animals and loves going to the zoo and being outside for walks. Their son is eating a plant based diet, no dairy or meats, no artificial sugars or dyes and the family puts an emphasis on him eating plenty of protein and anti-oxidant rich fruits and veggies.  Their current nanny really enjoys their son and has commented that their son is very alert, smart, gentle and kind. He is grasping new concepts very quickly and he is an extremely happy and easy going little guy. This family will be moving to Arizona in December and thus seeking a new nanny to join their family to assist in raising their sweet boy! They are seeking someone with extensive experience with the 0-36 month age range. 
The schedule for this position will be Monday through Friday from 8:00am until 5:00pm, the family will guarantee 40 hours per week.  They are looking for a nanny who is able to commit to at least one year, but they would love to have their new nanny for 3 years or more. They are hoping to find an amazing nanny who will stay and grow with their family as they plan on adding a new addition in the next year or so. They would love to find a nanny who has a very strong work ethic and can help out and be proactive wherever is needed.  They would like a true professional nanny who sees this as her career, someone who has a strong understanding of child development, great communication skills, is reliable and super engaging.
This position is offering $18 – $21 per hour with paid holidays, paid sick days, guaranteed hours and PTO!!!  The parents do occasionally work from home from time to time however they respect their nanny's role and allow her to be in charge and do her job during the day. 
This fun and loving family focuses on communication, empathy and kindness with their child and  employees and knows how incredibly valuable their nanny is.  They want their nanny to be a great fit, aligned with their views on communication, values and ethics. Someone who will match their parenting style and expectations of their family.  They practice a blend of parenting styles but most closely align with attachment parenting. Their son's emotional development and well being is extremely important to them. They want him to not only learn new things, they also want him to develop the ability to understand others, cultivate empathy and develop healthy, meaningful relationships. They want a highly qualified, loving nanny to take care of their son.  A nanny who will become close to their hearts and family, the nanny who works with this family will find that they are extremely generous and will show their gratitude daily. Someone who loves their career as a nanny and genuinely enjoys spending time with their precious little boy.
This family does have one small dog who is a 4 year old Maltese.  Some pet care will be needed.
Child related duties will include overall care of their son including but not limited to:
Meal prep

Feeding meals and snacks

Diapering/potty training

Naps

Playing/reading/engaging

Walks/park trips

Working with their child on educational and developmentally appropriate activities.

Driving to and from preschool 2 mornings a week starting Fall 2019, errands and outings
Household responsibilities will include:
Cleaning up after self and child

Keeping home picked up and organized
Making beds

Load/unload dishwasher

Family laundry – linens and towels

Keeping things organized – organizational projects, pantry, fridge etc. 

Meal prep

Errands – d

ry cleaning, taking dog to groomer, etc.  

They do employ a housekeeper for deep cleaning.

Also some pet care may be needed on occasion, letting dog in and out during the day, feeding and watering.  

This family is seeking a nanny who is highly organized, a multitasker and a true self-starter; someone who enjoys staying busy, seeing what needs to be done and taking the initiative to do it
This is a truly wonderful opportunity for a career oriented nanny who is seeking a position with an amazingly generous and caring family.  They would love for the new nanny to work a few days with their current nanny as they relocate to Arizona. They are heartsick to be losing her and their nanny is very sad to leave them as well but are hopeful to find another wonderful nanny to become an active part of their family. They want their nanny to feel valued and appreciated. This is a fun and easy going family and whoever lands this job will be SO lucky! 
From Mom:
"Just for fun – I asked my husband to describe himself in 5 words, and he said:
Loyal
Loving
Consistent
Driven
Optimistic.
This is how I would describe myself in 5 words:
Connective

Warm

Confident

Driven

Outgoing
Nannies this family truly has hearts of gold and we can't wait to find them an amazing new nanny for their family!!! To be considered for this fantastic opportunity please email your resume to trisha@nannyjoynt.com please use Reference code – TNJFT95  in the subject line. Interviews will begin ASAP
---
Location
---