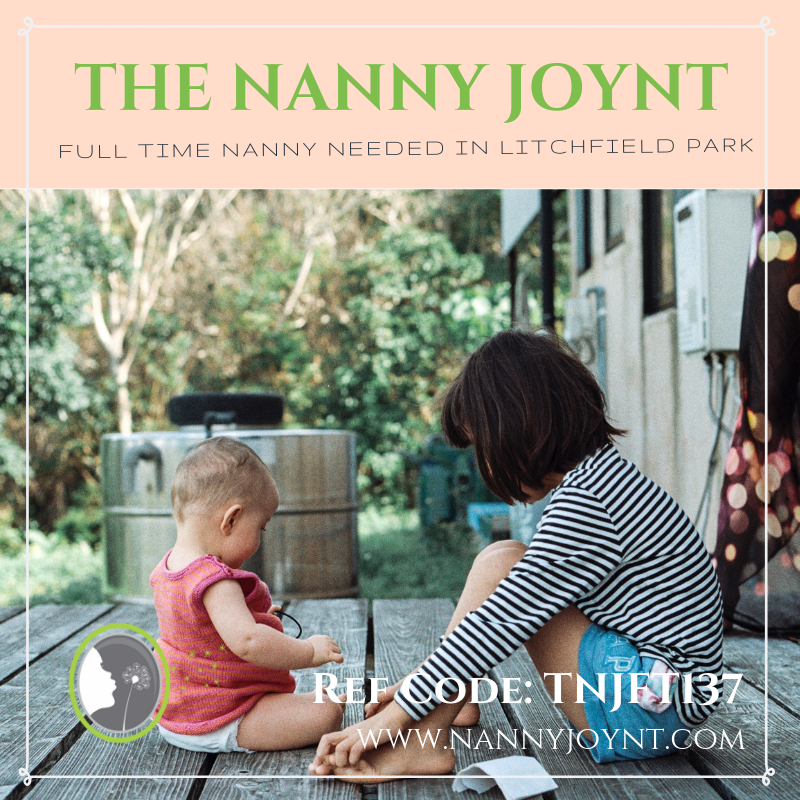 TNJFT137 – Loving, Long Term Nanny Need in Litchfield Park
Camelback and Litchfield Park
Posted 3 months ago
This position has been filled
Description
Full Time Nanny Litchfield Park
Location:  Camelback and Litchfield Rd
Start Date: Ideally May 27, 2019
Ref Code: TNJFT137
The Nanny Joynt is so excited to be working with an amazing family in Litchfield Park! They are looking for an awesome Spanish speaking nanny who can help with their two young daughters. Their oldest daughter is 3 years old and is very energetic and the life of the party.  She loves being active, reading, playing games and attends preschool 4 days each week. Her younger sister is just 2 weeks old and is so sweet.  This family is seeking an energetic, fun, punctual, proactive, and organized nanny to join their family! A bilingual nanny, Spanish, English would be highly preferred as both parents have a Spanish background and would love to have a nanny who can speak to their children in Spanish.  Nannies, this family is looking for a long term nanny who will ideally stay with their family for the next 5 years!!! If you are seeking an awesome long term position this one is for you.
The schedule for this family will be:
Monday through Friday 9:00am until 5:00pm

Some flexibility to come in as early as 6am on occasion if Dad is traveling will be needed  
This position is offering $18 to $22 per hour with guaranteed hours, paid vacation and paid holidays.
Mom works outside of the home and Dad will be working in an office attached to the home when he is not traveling.  This family also has one Labrador Retriever dog who is indoor and outdoor. 
The ideal candidate for this position will be extremely engaging, has a natural maternal instinct and is very patient, one who enjoys nurturing young developing minds and has a creative imagination.  A nanny who loves to come up with fun and exciting things to do with the girls to keep them entertained and always learning would be ideal! The 3 year old LOVES to stay busy doing crafts, activities and outings! 
Child related duties will include, but are not limited to:  All childcare for both children, diapers, potty training, washing and sanitizing bottles and baby items, feeding, naps, after school activities, dinner, bath, children's laundry, sorting toys and clothes, maintaining organization of their rooms and helping out where needed.  
Household responsibilities will include, but are not limited to: Light house cleaning and tidying, meal prep (not required but if a nanny loves to cook this would be awesome), load and unload dishwasher, wiping kitchen areas after meals, keeping all kid related items and areas stocked, tidy and organized.
This family is a very close and emotionally intelligent family that believes it takes a village to raise children. They cultivate a nurturing environment both for the children, as well as, the adults and family members in their circle. They are very flexible and ideally want a nanny that isn't just an employee, but an extension of their own family. Mom loves pictures sent during the day and is a great communicator.  Dad is hilarious and easy to communicate with as well.
They are seeking a long term commitment and plan to have a nanny in their home for the next 5 years!!!  
Nannies this is a DREAM job for the right candidate who is loving, organized, fun, upbeat and loves engaging young minds! This is a wonderful family who is looking for a nanny to become part of the family. They are respectful, flexible and treat their nannies like GOLD!  They are excited to meet a new nanny who can be a great help and make a lasting connection with their kids!. If you possess all the qualities above and are ready to work with a really wonderful family please send your resume to trisha@nannyjoynt.com REF CODE TNJFT137!
---
Location
---