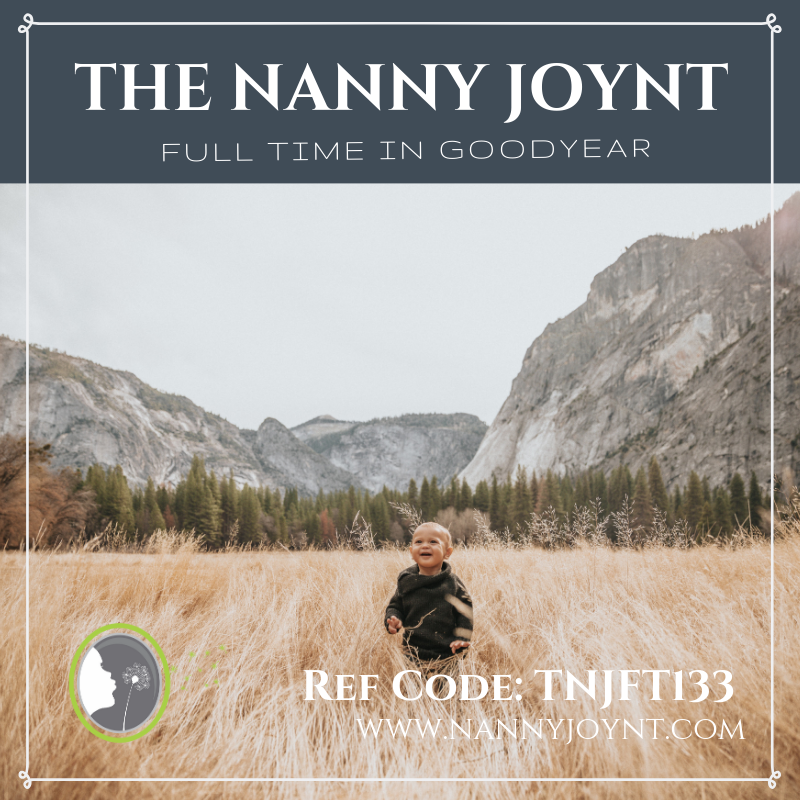 TNJFT133 – Reliable and Active Full Time Nanny in Goodyear -on hold
McDowell and 145th
Posted 4 months ago
This position has been filled
Description
Caring, Reliable Nanny Needed in Goodyear – ON HOLD 
Start Date: May 31, 2019
Location: McDowell and 145th
Ref Code: TNJFT133
The Nanny Joynt is happy to be working with a wonderful family who lives in Goodyear.  They have one sweet little boy who just turned 3 years old. He is a very fun loving, energetic, sweet, happy little boy who is easy going and curious about the world around him. He loves talking to people and learning. He doesn't nap currently so he needs a nanny who is full of energy. He loves being outdoors, enjoys looking at new things around him and loves to be active and engaged.  We are assisting this family in finding a loving, proactive and reliable full time nanny. This position will consist of caring for their son with some light household related tasks as time permits. Mom works at home and their nanny must be comfortable with Mom being around during the day, but should also recognize boundaries so Mom is able to complete work tasks during the day.
The position is offering $18 – $22 per hour, paid vacation, paid holidays, paid sick days and guaranteed hours! This family does travel about 6 to 8 weeks during the year and they would like for their nanny to be able to go along with them on these trips. This is preferred but not a requirement.  
They do travel both Internationally and Domestically so please be passport ready.
The schedule for this position will be:  Monday through Friday 8:30am until 5:00pm.  There is some flexibility with the schedule and the parents would like for their nanny to be able to come early or stay late if needed on occasion.  This family could also need their new nanny for overnights as well as both parents travel for work.
The ideal candidate for this position will be loving, happy, organized, flexible and has good judgement. They are looking for a nanny who will be consistent, proactive and compassionate. The ideal nanny for this family will provide consistency and put safety first in all situations. They want their son to feel loved and cared for every day.  Mom speaks 4 languages!!! She would love to find a nanny who speaks another language fluently, however, this is not a requirement for this position.
Child related duties will include all care of their son. The nanny will be responsible for all child care, feeding, bathing, washing and sanitizing items, laundry, meals and age appropriate developmental tasks daily. Reading, going on walks, being outside, doing activities each day, outings and making sure their son is engaged and learning. Their son loves to cook!
Household responsibilities will include helping with laundry and linens, light house cleaning, such as making sure the kitchen is wiped down, load/unload dishwasher, meal prep, putting away groceries, tidying and keeping things organized as needed.
A nanny who is very nurturing, hands on, and has a warm personality would be ideal for this family.  Their nanny should be kind and really love being with their son each day. They would like a nanny who speaks kindly to him and interacts with him in a sweet way. Their nanny should be adventurous, creative, have a curious mind and really love learning and teaching new things to their son in order to encourage his young mind and development.
This is a sweet and loving family who are casual and caring.  They would love to build a relationship with someone who will be with them for awhile! They are looking for a nanny who is consistent and gentle. They are very excited to meet their new nanny!
To be considered for this fantastic opportunity please email your resume to trisha@nannyjoynt.com please use Reference code – TNJFT133  in the subject line. Interviews will begin ASAP.
---
Location
---