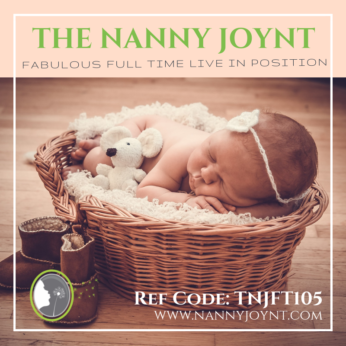 TNJFT105 – Amazing Live In Opportunity in Scottsdale
Nanny
Thompson Peak Parkway and Hayden
Posted 2 weeks ago
Description
Amazing Full Time Live In Position In Scottsdale
Location: Thompson Peak Pkwy and Hayden
Start Date: As Soon As Possible
Ref Code: TNJFT105
The Nanny Joynt is excited to share an amazing position working with a family in Scottsdale who recently had their first baby.  Their daughter is 3 months old and such a happy and sweet baby. This family is seeking an amazing, attentive, professional LIVE IN Nanny.  Their new nanny should be flexible with the schedule and be able to help out when needed. Mom and Dad are both very hands on and will be involved in the care of the baby on a daily basis.  Their nanny MUST be comfortable working alongside Mom. This family is looking for a nanny who will enjoy being an active part of their family for years to come! This position is ideal for a nanny who loves to travel and is experienced with traveling as the family travels extensively throughout the year.  Being a true team player and a professional is something this family takes seriously. Confidentiality is a must!
This position is offering $16 – $20 per hour, with a guaranteed 40 hours, paid vacation, paid holidays, paid sick time and use of a family vehicle.  $33,280 – $41,600 annual base salary! 
Living accommodations: Nanny will be provided her own private 1800 sq ft guest house on their property with a private entrance and driveway in beautiful Scottsdale, Arizona! This guest house has a full kitchen, living room, bedroom, laundry and is newly renovated! You will wake up each morning with some of the BEST views of beautiful Scottsdale, Arizona!
During the time you are in Scottsdale the typical schedule will be 2:00pm until 10:00pm, 5 days per week, 2 days off each week.

During times when you travel the schedule will be different, so you must be flexible. 

Flexibility for last minute schedule changes.
The family does travel extensively and while on the road you will be in your own room with the baby. Dad is a professional athlete and when on the road he needs to get sound sleep.  Having your passport current and ready to go or willing to get one is required. You will be responsible for everything for the baby during travel times, packing/unpacking, formula, diapers, managing baby's luggage at the airport, care of the baby and being on top of things/organized is a must.  Sometimes there are last minute schedule changes, so you will need to be prepared for these times. You will work 5 days on and then always have 2 days off each week (days off may not be consecutive). 
The ideal nanny for this position will be professional, discreet, reliable, calm, educated/experienced in taking care of a babies, attentive, engaging and have the ability to adapt to their schedule.  Someone who will easily pick up on the baby's ques and be able to attend to her as needed. Someone who will actively invest in developmental development with the baby is highly desired. A person who will keep things organized, clean and be able to work well as a team. This is a high profile position and any nanny we send over must understand and respect confidentiality and always be on their A game especially in the public eye. 
Childcare related duties including but not limited to:
All childcare related tasks, diapers, preparing bottles, washing bottles, laundry

Maintaining a log, feedings, diapers, sleep, etc.

Helping their daughter meet developmental milestones

Reading, talking, singing to the baby

Sanitizing baby items, cleaning baby areas

Maintaining organization and making sure the baby's needs are taken care of efficiently

Ordering needed baby supplies

Maintaining the nursery

Help maintain a good routine and schedule

Assisting the parents as needed
Household responsibilities will include: (There is a full time household manager/Assistant/Housecleaner)
Cleaning up after yourself and baby

Wiping counters and kitchen areas

Keeping areas organized and tidy
The family does have one small dog who usually goes everywhere Mom goes, so pet care will be minimal. 
They are seeking a nanny who will ideally be with them for a year or more.  A nanny who is social, active, fun to be around and a great communicator. This is a sweet family who lives a very busy  and fun life and enjoys spending time with their baby.  
They want their nanny to be able to represent their family while on outings and want you to be aware and very friendly when at social events.  They want their nanny to be able to enjoy dinners with them while traveling and also be ok just taking care of the baby if the parents are out.  A nanny who is able to communicate openly with them is desired. This is a fun family who would like their nanny to feel comfortable in their home and feel like she is part of the family.
Nannies this is truly an amazing career nanny opportunity to work with a wonderful family and their new baby girl.  They are looking to hire as soon as possible.
To be considered for this fantastic opportunity please email your resume to trisha@nannyjoynt.com please use Reference code – TNJFT105  in the subject line. Interviews will begin ASAP
---
Location
---