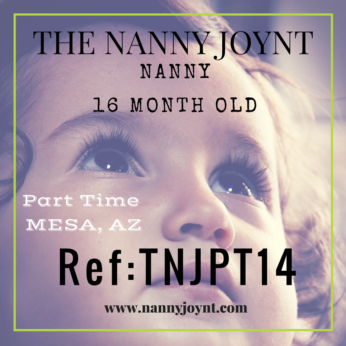 Reference Code: TNJPT14 Part Time Nanny for one toddler in Mesa
Newborn Care Specialist
Power and Thomas Mesa, AZ
Posted 2 weeks ago
Description
Reference Code: TNJPT14
Part time Nanny Mesa 
Start Date: July 2017
Power and Thomas
The Nanny Joynt is assisting a professional couple with a happy and energetic 2 year old and baby on the way seeking a Part Time nanny to help care for their children 3 days per week Tuesday, Wednesday, and Thursday from 8:30am – 4:30pm. Flexibility to come in a hour early or stay and hour late on occasion is ideal.
They are offering $15 – $17 /hour Gross with guaranteed hours and paid Holidays! They also offer after hours use of their communities' facilities including pool, jacuzzi and tennis courts.
The little girl is a happy and healthy almost 2 years old! She is very active and loves playing! Mom is expecting baby number 2 in November!
The ideal nanny candidate for this position has experience with toddlers and infants and understands the importance of following the parents instructions to ensure their child is happy and healthy! They would like to find a dependable nanny who will provide loving care to their children and help them achieve their developmental milestones. Mom and Dad are in sales and both work from home and sometimes out of the home. They have their offices set up in a back bedroom. They are very present in the day to day care of their child so nanny must be comfortable with work from home parents.
Child related responsibilities: All aspects of childcare including but not limited to feeding, putting down for naps, playtime, diapering, keeping a daily log, and taking the oldest on walks and to the park. This position is primarily home based and the nanny will not need to transport the children via car.
Household related responsibilities: General clean up after self and children, babies laundry and toy organization. Loading and unloading the dishwasher. This family prefers a very neat and tidy environment so it is important for the nanny to enjoy the same. 
This is a very nice family with great parents who want what is best for their sweet girl and baby on the way! They provide a nice, safe, clean, and dependable work environment.
Commitment: 1 year or longer
If you are interested and meet the requirements above, please email your resume to trisha@nannyjoynt.com with "TNJPT14" in the subject heading.
---
Location
---