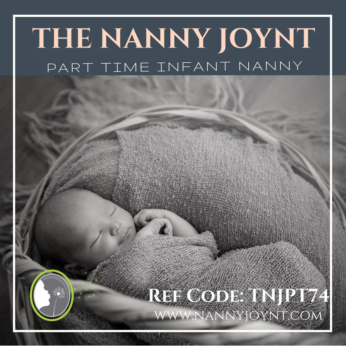 Ref Code: TNJPT74 Nanny for Sweet Infant Girl
Nanny
E Bell and 60th Street
Posted 8 months ago
This position has been filled
Description
Outgoing Nanny for Sweet Infant Girl  
Location: Bell and 60th St
Start Date: As Soon As Possible
Ref Code: TNJPT74
The Nanny Joynt is excited to share a wonderful part time nanny position available with one sweet infant girl! These new parents are fun, inviting, and will be so great to work with.  This family is seeking a Part Time Nanny to join their family to help care for their happy baby girl.  Dad from a home office and mom owns her own business so she will be in and out during the day. 
The ideal schedule for this position will be  (Monday, Thursday, Friday) from 8:00am – 5:00pm/ 6:00pm, the family is open to guarantee 20 – 30 hours per week depending on what the nanny prefers.  They are pretty flexible in terms of the schedule and would rather focus on finding the best fit rather than the perfect schedule. They are looking for a nanny who is able to commit to at least one year and hopefully longer. They are hoping to find an amazing nanny who will stay and grow with their family.
This position is offering $18 – $20 per hour with paid holidays and guaranteed hours!!
This fun and laid back family is looking for a nanny who is extremely patient and loving. Their ideal nanny will have newborn/infant experience and LOVE their job working with babies. They want their nanny to be loving, attentive, hands-on, laid back, calm, patient, organized, self driven & motivated. The ideal nanny for this family is someone who is experienced with infants, is passionate about children and her career in the childcare field, nurturing, proactive, and can be gentle with this new Mom.  Their perfect nanny enjoys helping their little one reach her developmental milestones and actively engages the baby throughout the day. They prefer a nanny who will make each day fun and effectively communicate the days activities with them through a daily log. This family has one large, super sweet and laid back dog named Central who is 12 years old.
Child related duties will include overall care of the baby including but not limited to: feeding, diapering, naps, helping baby hit each developmental milestones, tummy time, playing/reading, singing and walks. Cleaning up after self and baby, washing all bottles, baby laundry, maintaining the nursery and baby food prep.
Household responsibilities will include tidying up, load/unload dishwasher, family laundry, running the handheld vac and spot mop and keeping things organized.  Mom prefers things to be organized and neat and would love a nanny who prefers the same. They do employ a housekeeper so no deep cleaning will be needed. Also some pet care may be needed on occasion, letting dog in and out during the day, feeding and watering.  
Nannies this is a DREAM family!!! This is a wonderful opportunity for a nanny who is seeking a position with a fun and laid back family! They want their nanny to feel valued and appreciated and become an active part of their family. Both parents are easy going and are excited to meet a wonderful nanny to join them in helping out with their baby girl!
To be considered for this fantastic opportunity please email your resume to trisha@nannyjoynt.com please use Reference code – TNJPT74  in the subject line. Interviews will begin ASAP
---
Location
---