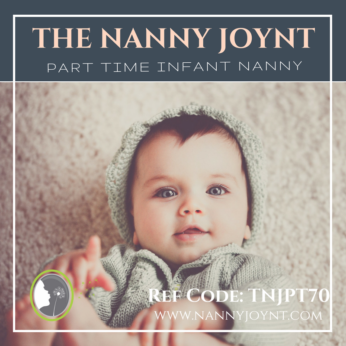 Ref Code: TNJPT70 Infant Nanny Scottsdale
Nanny
Thompson Peak Pkwy and Bell
Posted 5 months ago
This position has been filled
Description
Amazing Nanny Needed in Scottsdale with Infant
Start Date: Early August 2018
Ref Code: TNJPT70
Cross Streets: Thompson Peak Pkwy and Bell

The Nanny Joynt is working with a wonderful single mother in North Scottsdale with one baby boy who is 4 months old. We are assisting this family in finding a loving, proactive and engaging part time nanny. This position will consist of mainly caring for the baby with some light household related tasks if time permits. The family is flexible on the days and hours, however, their ideal schedule is 4-5 days per week for 4/5 hours per day. They are open to discussing the schedule for the "right" candidate. Mom is thinking a 9am – 1pm would be ideal but is totally flexible. 
If you are interested in the position please email us your desired schedule. The job will be 20 hours per week with guaranteed hours.
The position is offering $20 – $22 per hour gross, paid vacation, paid holidays and guaranteed hours!
The ideal candidate for this position will be loving, happy, engaging, flexible, and has good judgement. Mom is looking for a nanny who will be consistent, proactive and compassionate. She is a stay at home Mom and will be around, so you need to be comfortable with working alongside her. The ideal nanny for this family will provide consistency and use gentle no cry methods with the baby. 
Child related duties will include care for a super cute and sweet baby boy (4 months old). The nanny will be responsible for all child care, feeding, bathing, naps, activities, and age appropriate developmental activity daily. Mom would like someone who will log daily activities and someone who loves singing and reading to the baby. Accompanying mom on appointments. 
Household responsibilities will include children's laundry and linens, light house cleaning such as making sure kitchen is wiped down, load/unload dishwasher, simple meal prep for baby, tidying and keeping things organized as needed. This family does have a house cleaner who comes once a month for deep cleaning.  Their main concern is the care of their son and household tasks and helping out where needed if time permits.
This is a sweet and loving new mom who is raising her son on her own. She is looking to find some balance and gain some much needed "Mommy time." She is nervous about hiring a nanny so someone who can be gentle and supportive as she gains trust would be ideal. She has had some support from doulas so she is used to having some light assistance with the house and baby. Mom is very sweet and appreciative and is looking forward to connecting with a wonderful nanny who can assist her with her sweet boy. 
They are looking for a 6 month commitment.
To be considered for this fantastic opportunity please email your resume to trisha@nannyjoynt.complease use Reference code – TNJPT70  in the subject line. Interviews will begin ASAP.
---
Location
---