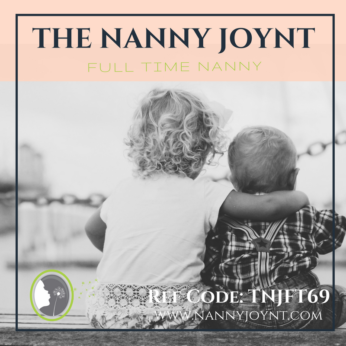 Ref Code: TNJFT69 Nanny for great family in Desert Ridge
40th Street and Deer Valley
Posted 9 months ago
This position has been filled
Description
Nanny for great family in Desert Ridge
Start Date: August  2018
Ref Code: TNJFT69
The Nanny Joynt is working with a wonderful family relocating to Arizona from MN with 2 sweet and fun children.  Their daughter is almost 3 and their son is  almost 1. We are assisting this family in finding a loving, energetic and engaging part time nanny. This position will consist of mainly caring for the children with some light household related tasks. The ideal schedule for this family is Monday through Friday from 8:00am – 4:00pm. They would love for the nanny they hire to have some flexibility to pick up a weekend day or evening shift on occasion with advanced notice. Dad works out of state and so is gone often therefore mom needs someone who can be extremely reliable and offer flexibility. 
The position is offering $20 – $22 per hour gross, paid vacation (after 6 months), paid holidays, guaranteed hours and mileage reimbursement!
The ideal candidate for this position will be loving,  happy, engaging, organized, flexible, and has good judgement. They are looking for a nanny who will be consistent and be an integral part of their family.  The grandmother does live with the family and Dad works out of town. Mom is not a micromanager and would like a nanny who will take initiative in this position. Mom is a busy physician and is looking to add a warm and loving nanny to their team to assist with the children and the day to day tasks. The ideal nanny for this family will provide consistency and thrive on routine. They would love an active nanny who is excited to get the children out and about to explore their new city! Outings to the children's museum, parks, splash pads, library etc will be highly encouraged! They would love a nanny who enjoys to implement educational activities throughout the day making learning fun!
Child related duties will include care for 2 children ages 2 and 10 months. The nanny will be responsible for meal prep, bathing, naps, activities, outings, classes and age appropriate developmental tasks daily. Nanny will work alone with the 2 children at times as well as alongside grandma. Nanny MUST be comfortable working with other adults around.
Household responsibilities will include children's laundry and linens, light house cleaning such as making sure kitchen is wiped down, load/unload dishwasher, errands/grocery shopping on occasion, simple meal prep, tidying, and helping the kids clean up toy areas and children's rooms. This family does have a house cleaner who comes twice a month for deep cleaning.  They do not expect their nanny to do housekeeping tasks.
This is a fun and friendly family with great kids! They are looking for a nanny who is consistent and loving, they are very excited to meet their new nanny who they hope will become an active part of their family for years to come! They are very fair and want their nanny to feel valued and appreciated!
They are looking for a long term commitment.
To be considered for this fantastic opportunity please email your resume to trisha@nannyjoynt.complease use Reference code – TNJFT69  in the subject line. Interviews will begin ASAP
---
Location
---