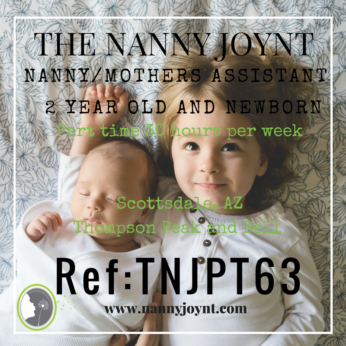 Ref Code: TNJPT63 North Scottsdale Nanny/Mother's Assistant
Nanny
Thompson Peak and Bell
Posted 4 months ago
This position has been filled
Description
Nanny/Mother's Assistant
Reference Code: TNJPT63
Start Date: ASAP
Thompson Peak and Bell
The Nanny Joynt is working with a wonderful family in North Scottsdale seeking an experienced, nurturing, responsible and reliable nanny to care for their 2 year old girl and new baby boy who is expected Feb 2018!! The ideal schedule will be Monday, Wednesday, Friday 9am – 1pm. 
They are offering a competitive hourly rate that will be based on candidate experience. Hourly rate will range from $17/hour – $20/hour with guaranteed hours and paid time off!!!
The ideal candidate for this family is someone who is playful and engaging with the two year old but also has experience and is comfortable assisting with caring for the newborn! Mom will be home and is actively involved with the children. This is very much a team environment and nanny must be comfortable working alongside mom. A nanny  who is proactive and happy to help around the house if mom is with the children would be ideal. Mom is super sweet, easy going, and easy to talk to! Ultimately they would love to a nanny who will become part of the family who will enjoy her job and enjoy coming to care for two sweet babies each day! They would love a bilingual nanny who would be open to teaching their children another language however this is not a deal breaker.
Child related responsibilities: Will include caring for and interacting with the two year old and the baby once born. Preparing and feeding meals/snacks, educational activities and play, reading, walks, parks (they live in a great community with awesome parks!), diapering and potty training, outings with mom. The position will primarily be home based as mom is not comfortable with the nanny driving the children at this time.
Household related responsibilities: Will include tidying main areas, load/unload dishes, vacuum/steam mop as needed, assistance with folding family laundry, grocery store, errands, dry cleaning, post office runs, help with light meal prep. Maintaining clean and organized child related areas, keeping child related items stocked and letting mom know when things are running low, empty diaper pail/trash as needed, change children linens. This family employs a housecleaner and has a very neat and clean home. They prefer someone who enjoys a clean and organized environment.
This family does have one dog a 17 year old Shihtzu who enjoys two walks per day. A nanny who would be open to taking the doggie and toddler for a walk would be great!
Mom's  61 year old father also lives in the house, but will be out of the main living area (which is downstairs) while the nanny is there. He works upstairs on the phone but can be available if you need to take a break or need help with anything. He is a very nice man and keeps to himself.
This is a fantastic opportunity to work with a fun and loving family who genuinely want the BEST for their children. They are extremely welcoming and are looking forward to inviting a great nanny to become a member of their family working as a team to provide the best care and love for their children. I adored meeting with the mom during our in home consultation and can promise this will be an OUTSTANDING family to work with!!
This family is seeking a minimum 1 year commitment and would ideally love to find a nanny who will work with them for years to come.
If you are interested and meet the requirements above, please comment below and email your resume to trisha@nannyjoynt.com with "TNJPT63" in the subject heading.
---
Location
---