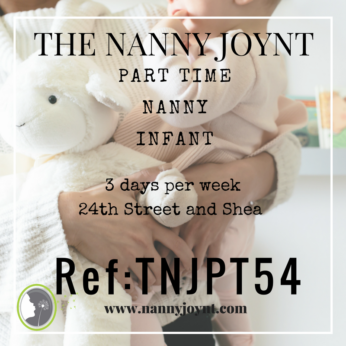 Ref Code: TNJPT54 Infant Nanny 3 days/week
Nanny
24th Street and Shea
Posted 5 months ago
This position has been filled
Description
Reference Code: TNJPT54
Part time Nanny North Phoenix 3 days per week
Start Date: Early September
Shea and 24th Street
The Nanny Joynt is working with wonderful first time parents seeking a part time nanny for their super cute 4 month old baby girl! This position will be 3 days per week from 8/9am – 5pm. This family is flexible on the days however their preferred schedule would be Tues, Thurs, Friday.
This position is offering $16-$18/hour with guaranteed hours and paid time off!  
The baby is a sweet and healthy baby girl who loves to be held and snuggled. She is not always the greatest sleeper so it is extremely important for the nanny they hire to have a lot of patience and a very gentle and soft approach. This family practices some elements of attachment parenting.
They would love to find a nanny who has a strong love for babies and enjoys engaging and interacting with them. The ideal candidate for this position is someone who has newborn/infant experience, someone who is calm and patient, and someone who can offer their expertise and newborn knowledge in a caring and gentle way while still respecting the parents wishes in the way they prefer to do things.  Bilingual in Spanish would be preferred but not required.
Child related responsibilities: Overall care for baby including but not limited to feeding (baby is currently exclusively breastfed), burping, diapering, helping establish a healthy and happy schedule, going on walks/outings (as baby gets older), snuggling, reading and interacting with the baby. This family has a no screen time policy for their baby and would want a nanny who respects this.
Household related responsibilities: General clean up after self and baby, baby laundry, kitchen clean up (wiping down counter, loading/unloading dishwasher), maintaining organized and stocked nursery, and occasional errands, assisting with baby food prep, and light meal/snack prep for the family.
Looking for a long term fit!
This is a super sweet and down to earth young family excited to learn and grow with their nanny. They are super easy to talk to and want their nanny to be a huge part of their family and their daughter's life for years to come! They are very fair and understanding people who want their nanny to feel valued and respected.  
If you are interested and meet the requirements above, please comment below  and email your resume to trisha@nannyjoynt.com with "TNJPT54" in the subject heading.
---
Location
---