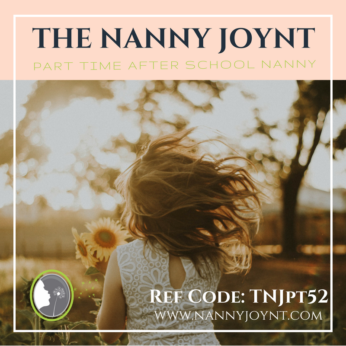 REF CODE: TNJPT52 – Part Time After School Nanny
Nanny
Hayden and Mountain View
Posted 8 months ago
This position has been filled
Description
After School nanny Hayden and Mountain View
Start Date: ASAP  
Ref Code: TNJPT52
The Nanny Joynt is excited to share with you all a wonderful opportunity to work with a fabulous family with a sweet and energetic 7 year old little girl! This laid back family is seeking a Part Time nanny and the hours will be Monday – Thursday 2:45pm – 6 or 7pm (depending on the day) and Friday 12:00pm – 5:30pm!  This position will guarantee 18 hours per week. They need a nanny who is flexible and can pick up additional hours on holidays, half days and school breaks. Flexibility is key as there may be times when other family members want to spend time with the little girl and the nanny will either be asked to be at the house assisting with simple tasks or given that time off. Nanny will be paid for all her guaranteed hours!
The position is offering $17 – 20/hour with guaranteed hours and mileage reimbursement.
This family is looking for a nanny who is energetic, outgoing and passionate about childcare. Someone who has experience working with a young school age child, is fun and playful but can also provide structure, implement and enforce the rules, and ensure the child is getting her daily tasks accomplished.  They would love to find a nanny who is vested in the child's learning and development (ideal for a student studying childhood education or a former teacher).
Child related duties will include picking up the 7 year old from school or after school activities, preparing snacks, assisting with homework completion, playtime, swimming, bike rides, crafts etc. During the summer months the family is open to more hours or keeping it the same schedule and would be open to fun outings and various activities.
Household responsibilities  Load/unload dishwasher as needed, cleaning up after meals and activities, helping the child to clean/organize toys and child areas. General clean up after self and child. Feeding the dog and letting him outside. This is a very neat and clean family and they prefer a nanny who is the same. They do employ a housecleaner once per week so the position does not involve housecleaning.
Commitment: Family is looking for a minimum 1 year commitment. The would love to find a wonderful LONG term fit
Transportation Responsibilities: Nanny will need her own reliable transportation to use while transporting the child. Mileage reimbursement will be provided.
Pets: This family has a loving maltese and an indoor cat.
Nannies! This mom is so sweet, warm and welcoming! This is going to be such a wonderful family to work with. They are super laid back and caring and want their nanny to feel comfortable and a welcome part of the family. The little girl is ton of fun!
---
Location
---