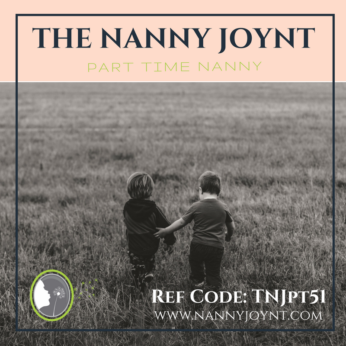 Ref Code: TNJPT51 Part time nanny 18 month old TWINS!
83rd avenue and Olive peoria AZ
Posted 8 months ago
This position has been filled
Description
Part Time Nanny for the Cutest boy/girl twins!!
Location: 83rd Avenue and Olive
Reference Code: TNJPT51
Start Date: End of July 2018 
The Nanny Joynt is working with awesome parents seeking a dependable, honest and caring Part Time nanny for their sweet 18 month old B/G twins! The schedule will be a little fluid as both parents work as sports trainers and their schedules follow the sports for the current season. They will give the anticipated schedule a month in advance and will guarantee 20 hours per week however most weeks the schedule will be closer to 30-35 hours per week. The set schedule will be a minimum of Monday – Friday 12pm – 4pm. During football season the nanny will be needed to stay until 8/9pm 1-2 nights per week (typically W or Th)  and 11pm on Fridays. As the season changes to basketball the schedule will adjust accordingly.
This position is offering $16 – $18 /hour Gross with guaranteed 20 hours/week, paid holidays and accrued PTO! This family is open to a nanny bringing her own child in which the rate of pay would be a little lower.  
The ideal candidate for this position is experienced and knowledgeable with toddler care and multiples.
This family would love to find a nanny who is enthusiastic about childcare, who can be flexible with hours/schedule someone who is patient and understanding and can follow the schedule the twins are on. Someone who is looking to become a member of their family and looking to share their family's values of hard-work, honesty and integrity.
Additional key qualities for this position include someone who is easygoing, laid back, trustworthy, an excellent communicator and a nanny who has a great sense of humor.
Child related responsibilities: Overall care for the twins including but not limited to diaper changes, feeding, helping to maintain a healthy schedule, going on walks, playing with and reading, helping them reach developmental milestones. Maintaining a daily log to effectively communicate the day's activities with the parents.
Household related responsibilities: General clean up after self and children, help maintaining cleanliness and order of child related areas, children's laundry, emptying/loading dishwasher, baby bottles/dishes.
This family does have two indoor cats. They do not require any care from the nanny.  
Commitment: Long term!
Nannies!! This is a fantastic opportunity to work with a super laid back and down to earth family! They are flexible, understanding and excited to have a nanny join in their family to enjoy caring for their sweet babes! These twins are SO cute!!!
If you are interested and meet the requirements above, please comment below and email your resume to trisha@nannyjoynt.com with "TNJPT51" in the subject heading
---
Location
---