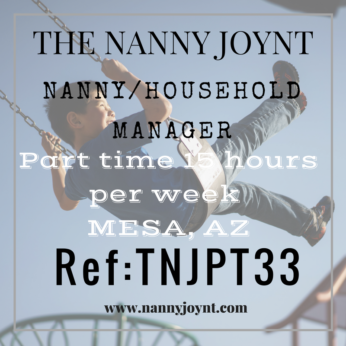 Ref Code: TNJPT33 Part Time Nanny/Household Manager Mesa
Nanny
Mesa, AZ 85204
Posted 9 months ago
This position has been filled
Description
Val Vista Broadway
Start Date: ASAP
Ref Code: TNJPT33
The Nanny Joynt is working with a wonderful single father who is raising his 7 year old son (fulltime) and 4 year old daughter (part time) who is seeking a nice, reliable and hardworking nanny/household manager to assist him with the day to day responsibilities. The ideal schedule for this family would be M, W, F from 3:00pm – 7pm and Saturday from 10am – 2pm for a total of 15 hours per week. They may want to add some additional hours in the future if it works out mutually for both parties.
This position is offering $18-$20/hour!
This family is seeking a mature and responsible household manager who can help take the load off this busy dad so he can spend more quality time with his children. The fun and creative little boy is 7 years old and he enjoys swimming and ninja class! He has loads of energy so it is important for the nanny to enjoy staying active. The little girl is 4 years old and enjoys swimming and dance class!
Child related responsibilities: Picking up the child(ren) from their grandparents house or school and taking to after school activities or home to complete homework. Feeding meals and snacks, dinner prep, reading/homework assistance, bath/shower.
Household related responsibilities: The nanny would arrive at the home a couple hours before picking up the child(ren) to assist with household related tasks which will include: grocery shopping, family meal prep, family laundry, ironing, dry cleaning, light house cleaning (family employs a housekeeper).
Overall this nice and super easy going family is seeking someone who can come in and help out to allow dad to spend more quality time with his children having fun!
Commitment: Minimum 1 year
If you are interested and meet the requirements above, please comment below  and email your resume to trisha@nannyjoynt.com with "TNJPT33" in the subject heading.
---
Location
---