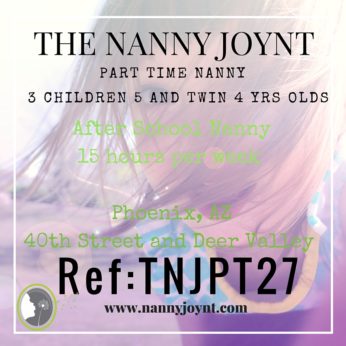 Ref Code: TNJPT27 After School Nanny
Part Time
40th Street and Deer Valley
Posted 9 months ago
Description
After School nanny Desert Ridge
Start Date: August 2017   
Ref Code: TNJPT27
The Nanny Joynt is excited to share a wonderful position for a great family in the Desert Ridge area seeking an after school nanny for their 3 children ages 6 and 5 year old twins! They are seeking assistance Monday through Friday from 3:00pm – 6:00pm for a total of 15 hours guaranteed each week. Would love if someone was flexible with early release days
The position is offering $15.00- 20.00/hour with guaranteed hours.
This family is looking for a nanny who is experienced and  passionate about childcare, has experience working with multiple children, is fun but can provide structure and follow the set schedule with the children.
They would love to find a nanny who is vesting in the children's learning and development. The perfect nanny for this family will be an excellent communicator, honest, has great initiative and most importantly LOVES children!
Child related duties will include overall care for 3 children 5 (B), 4(G), 4(B) including but not limited to preparing and feeding meals and snacks, maintaining a healthy schedule,  planning and facilitating age appropriate activities to help the children develop mentally, physically and emotionally as well as hit developmental milestones, playtime, reading, pick up from school and drive to after school activities.
Household responsibilities are child related only. These will include light dinner prep, cleaning up after meals and activities, cleaning/organizing toys and children's areas. General clean up after self and children.
This is  a very busy family with two professional full time working parents and three young kids, there is usually chaos. They always try to make things fun for the kids. Happy, healthy kids and family is their  goal!
To be considered for this fantastic opportunity please email your resume to trisha@nannyjoynt.complease use Reference code – TNJPT27  in the subject line. Interviews will begin ASAP
Position Details
Start Date: – Mid August
Location: Phoenix, AZ (40th Street and Deer Valley)
Schedule:
Monday – Friday 3:00pm – 6:00pm
Guaranteed 15 hours per week
Job Responsibilities: (Childcare)
Childcare for 3 children ages 5, 4 and 4
Meals and snacks
Pick up from school
Transportation to after school activities
Reading, singing, playing
Create structured activities
Job Responsibilities: (Household)
Light dinner prep (putting dinner in the oven)
Keeping school work organized
Clean up after meals/snacks
Maintain cleanliness of all child related areas
General clean up after self and children
Transportation Responsibilities: Nanny will need her own reliable transportation to use while transporting the children.
Compensation:
$15.00-$20.00/hour
Guaranteed hours
Commitment: Family is looking for a 1 year commitment
If you are interested in applying and have not already done so please fill out the nanny application atwww.nannyjoynt.com to be considered for this incredible position!
Thank you and we look forward to working with you soon!
---
Location
---