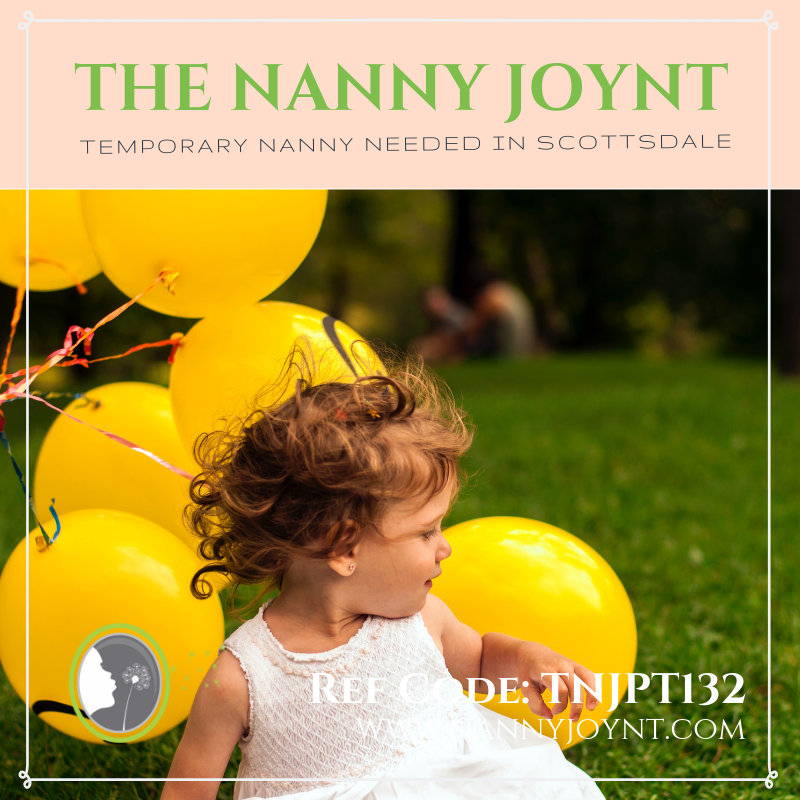 Ref Code – TNJPT132 Awesome Temporary Nanny Needed in Scottsdale
Legacy and 94th Street
Posted 4 months ago
This position has been filled
Description
Experienced, Loving TEMPORARY Nanny Needed in Scottsdale
Location: Legacy and 94th St
Start Date: May 1 through August or September
Ref Code: TNJPT132
The Nanny Joynt is very happy to share a new temporary position with an amazing family in North Scottsdale.  This family is seeking a wonderful and engaging temporary nanny to care for their adorable 1 year old little girl. Mom is pregnant and expecting their second child this Summer. Dad travels often for his job and so this family is seeking a great nanny who can assist mom and give her some down time to care for herself.
The schedule will be T, W, TH from 9am – 3pm starting May 1 – August/September. At that time they may extend the contract if it is a great fit for all!
This position is offering $20/hour!
This family is looking for a nanny who will take the initiative to help out where needed. A nanny who will really be involved with the education and development of their daughter on a daily basis.  The nanny should be engaging, loving, hands on, safety conscious and very active each day.
Childcare related duties including but not limited to:
All childcare for their daughter each day

Helping the child meet developmental milestones, education, reading, singing

Diapers, bottles, naps, maintaining a healthy sleeping and eating schedule

Maintaining organization and making sure things the family needs are taken care of efficiently
Household responsibilities will include:
Light house cleaning, wiping down kitchen counters, tidying house each day, etc.

Load/Unload Dishwasher

Children's laundry, sanitizing toys

Keeping things organized and cleaned up
They are seeking a nanny who is looking for a temporary commitment, however, they are open to extending if things are working out.  Someone who is consistent would be ideal. Both parents are genuine, nice, outgoing and easy to communicate with. A nanny who will focus on the care of their child and her safety.
To be considered for this amazing opportunity please email your resume to trisha@nannyjoynt.com please use Reference code – TNJPT132  in the subject line. Interviews will begin ASAP
---
Location
---