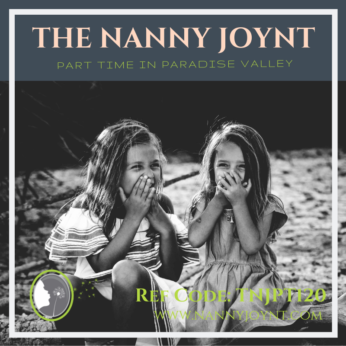 Ref Code TNJPT120 – Reliable, Active Nanny Need for Twins in Paradise Valley
Nanny
Shea and 64th
Posted 6 days ago
This position has been filled
Description
Experienced, Organized Nanny Needed in Paradise Valley – Adorable Twins
Location: Shea and 64th
Start Date: As Soon As Possible
Ref Code: TNJPT120
The Nanny Joynt is very happy to share an amazing part time position available with energetic twin girls. The girls are 3 years old and really enjoy being busy.  One twin is very sweet, smart and sensitive, she loves art! The other twin is also very sweet and enjoys playing more independently. She loves sports and doing puzzles.  This family is very big on manners and want their new nanny to encourage good behaviors. Both girls are very well behaved and enjoy doing lots of activities. This family is seeking a reliable, proactive and motivated career nanny to join their family.  Mom does have a home office and usually works from home at least part of the day.
The schedule will be around 21.5 hours each week. The position will pay $18 – $20 per hour with guaranteed hours, paid holidays and paid vacation time.
Tuesday 7:30am until 4:30pm (Flexibility to stay later if needed.)

Wednesday 7:30am until 11:00am

Thursday 7:30am until 4:30pm (Flexibility to stay later if needed.)
Summer hours might be longer and you could have a start time as early as 7:00am.  This family does need you to have the ability to stay later on Tuesday and Thursday occasionally.
This family is looking for a nanny who will be safety conscious at all times as they do have a pool at home.  Someone who is familiar with working with twins and their unique dynamic would be ideal. They would like for their new nanny to be efficient, a multitasker, very reliable and super consistent and engaging with the girls. They do have other nannies who during the week/weekend as well.
This busy and active family is looking for a nanny who is experienced with young children.  A nanny who is detail oriented, organized, patient and understanding with their children is most important to them.  Their new nanny should be reliable, loving, protective, proactive and hands on. A nanny who is creative, takes initiative and is able to help with arts, crafts and activities is ideal.  Their nanny should also be warm, flexible, attentive, punctual, self driven & motivated. Someone who has a clam and positive energy would be the perfect fit for them. 
Childcare related duties including but not limited to:
Comprehensive childcare for the twins each day

Packing lunches, snacks, meals for the children

Activities, arts, crafts, reading, educational activities

Helping the children meet each developmental milestone

Maintaining organization and making sure things the children need are taken care of efficiently
Household responsibilities will include:
Light house cleaning, wiping down kitchen counters, tidying house each day, etc.

Load/Unload Dishwasher

Laundry for the children

Vacuum floors, sweep areas, occasional dusting – They are renovating so help maintaining the dust would be great. 

Signing for packages and bringing them in daily

Water plants, help out where needed

Care of dog on a daily basis
This family does employ a housekeeper who comes once a week for deep cleaning.  The family also has a large Golden Doodle (3rd child) who is part of their family. Their nanny must be a dog lover and have experience with dogs.  They do want their nanny to walk, play with and tend to daily needs of the dog. He is a LOVER and is such a sweet boy! 
They are seeking a nanny who can make at least a 6 month commitment, but the position could possibly extend to a year.  This family enjoys open communication with their nannies and want their nanny to always come to them if there is a need. Someone who is consistent with the parents wishes would be ideal.  Both parents are organized, nice, outgoing and easy to communicate with.
They are excited to find an amazing nanny to join their team to assist them with their amazing girls. Their family is very happy and loving.  Their most important priority is to have positive and happy home for their children. Their new nanny should have a positive attitude a genuine love for children and have a calm personality.
To be considered for this amazing opportunity please email your resume to trisha@nannyjoynt.com please use Reference code – TNJPT120  in the subject line. Interviews will begin ASAP
---
Location
---