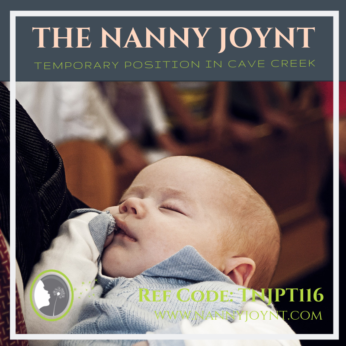 Ref Code: TNJPT116 Part Time Temporary Nanny Needed in Cave Creek
Nanny
Tatum Rd and Cave Creek Rd
Posted 3 weeks ago
Description
Caring Temporary Nanny for Sweet Infant Boy  
Location: Tatum and Cave Creek Roads
Start Date: February 18, 2019
Ref Code: TNJPT116 – 3 Month TEMP
The Nanny Joynt is happy to share a wonderful part time temporary nanny position available with one sweet infant boy! The family is looking for a caring nanny who will work with their family beginning on February 18, 2019 and ending on May 16, 2019. This laid back and inviting family is seeking a Part Time Temporary Nanny to join their family to help care for their happy and content baby boy.  Mom and Dad both generally work away from the home, however, Dad may sometimes work at home occasionally as his schedule is not set on a day to day basis.  They would love to have a nanny who can sometimes be flexible with working hours and have the ability to stay later if needed.
The schedule for this position will be  (M, T, W, Th) from 8:00am – 1:00pm for a 20 hour work week.  They are looking for someone with some flexibility as the schedule can change a little.
This position is offering $17 – $22 per hour with with guaranteed hours!
This sweet family is looking for a nanny who will be loving, attentive, hands-on, creative, calm, patient, organized, self driven & motivated.  The ideal nanny for this family is someone who is experienced with infants, is passionate about children and her career in the childcare field, nurturing, proactive, has a plan for each day and is adaptable.   Someone who loves their career as a nanny and genuinely enjoys spending time with their little one. Their perfect nanny enjoys helping their little one reach his developmental milestones and actively engages the baby throughout the day. They prefer a nanny who will make each day fun, different and effectively communicates the days activities with them.  
This family does have two non shedding poodle mix dogs.  One is 15 pounds and one is 70 pounds. They are both very friendly.  Letting them in and out during the day will be needed.
Child related duties will include overall care of baby including but not limited to: feeding, diapering, facilitating a healthy sleep/nap schedule, helping baby hit each developmental milestone, playing/reading, walks etc. Cleaning up after self and baby, washing all bottles, laundry, maintaining the nursery and ensuring baby items are stocked and organized.
Household responsibilities will include cleaning up after self and baby, washing all bottles, maintaining the nursery and ensuring baby items are stocked and organized. Load/unload dishwasher. Also some pet care, letting dogs in and out during the day and making sure they have water.  
A typical day with this family may look like: Nanny would arrive at 8am when Dad would be leaving for work. He may have some days where he works from home part of the day. Their little one takes a bottle about every 2-3 hours. He is awake for about 1.5-2 hours between naps. He will be starting solids over the next month and the family will be able to provide further instruction when they start. During his awake time he plays, does tummy time, and they read books and sing songs. Dad will typically be home around 1:00pm. There may be some situations when his day runs later than 1:00pm and they would call the nanny to ask if they are able to stay later.
This is a wonderful opportunity for a nanny who is seeking a temporary position with a loving and happy family!  They are looking for a caring, experienced nanny who will care for their child like they would their own. Their son's safety is their highest priority. They would also like someone who will engage with their infant in age appropriate activities. Some flexibility would be helpful as Dad owns his own business and does not have set working hours. They want their nanny to feel valued and appreciated. Their son is a good baby and generally happy during the day. The hours are guaranteed for the three months.
This is a really nice family looking for the same in a caregiver. If they love their nanny and the nanny feels the same about them they would consider delaying daycare when their little one is older!
To be considered for this fantastic opportunity please email your resume to trisha@nannyjoynt.com please use Reference code – TNJPT116/TEMP  in the subject line. Interviews will begin ASAP
---
Location
---