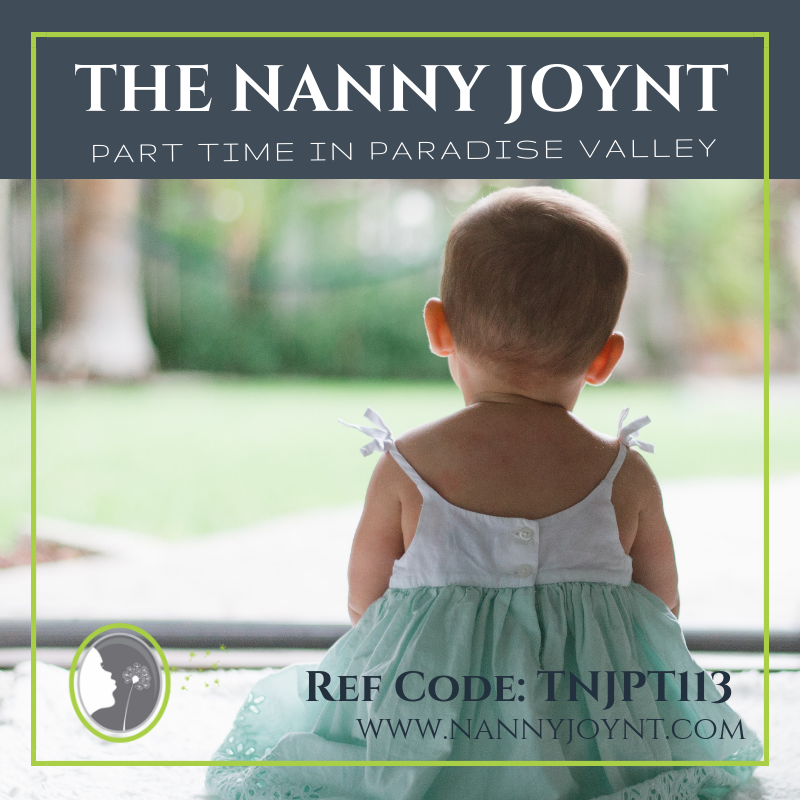 Ref Code: TNJPT113 Proactive nanny needed in Paradise Valley
56th street and Lincoln Paradise Valley, AZ
Posted 7 months ago
This position has been filled
Description
Proactive Nanny Needed in Paradise Valley  
Location: 56th and Lincoln
Start Date: ASAP
Ref Code: TNJPT113
The Nanny Joynt is excited to share a wonderful part time nanny position available with one sweet baby girl! This involved and loving family is seeking a Part Time Nanny to join their family to help care for their happy and content baby girl. Their daughter is 11 months old and she is very bubbly and full of energy.  She loves being engaged with her caregiver and is a good sleeper and eats very well. Mom and Dad both work away from the home, but can be in and out occasionally during the day. The grandparents currently live in the home while their home is being built. 
The current schedule for this position is:  Monday 7am-6pm, Wednesday 7am-6pm and Friday 7am-6pm. They would love to have a nanny who is flexible and has availability for Tuesday and Thursday occasionally but this is not a requirement.
This position is offering $20 per hour with paid holidays, 1 week paid vacation, paid sick days and guaranteed hours! The family will guarantee 20-30 hours per week. They are willing to guarantee 30 hours per week right away if needed by the nanny they hire. 
The ideal nanny for this position will be passionate about her career as a nanny and enjoys spending time with their little one.  Someone who understands developmental phases and the importance of engagement and communication with their daughter. They need for their nanny to take initiative, someone who can see what needs taken care of and has the ability to prioritize.  A nanny who is positive, happy and genuinely loves children is ideal. The nanny should be willing to help around the house and be able to complete tasks while the baby is napping. Please be motivated, self driven and have a heart to serve. The family would like the nanny to be experienced with babies, nurturing, proactive, has a plan for each day and is adaptable. Their perfect nanny enjoys helping their little one reach her developmental milestones and actively engages her throughout the day. They prefer a nanny who will make each day fun, different and effectively communicates the days activities with them.  Safety is a top priority for this family, so a nanny who is very safety conscious is ideal. A nanny who is familiar with Love and Logic would be great.
Child related duties will include overall care of baby including but not limited to: feeding, diapering, facilitating a healthy sleep/nap schedule, helping baby hit each developmental milestone, playing/reading, walks, arts and crafts etc. Cleaning up after self and baby, washing all bottles, laundry, maintaining the nursery and ensuring baby items are stocked and organized. The family would like you to keep a log of the daily activities.
Household responsibilities will include but are not limited to: Simple family meal prep, cleaning up after self and baby, baby laundry and linens, load/unload dishwasher, taking trash out, stocking fridge with water, etc. Bring in mail and packages, dry cleaning and occasional errands. Light housekeeping, the family does employ a house cleaner who comes once a week for deep cleaning.
A nanny who LOVES dogs is imperative for this family.  They currently have 3 Labrador Retrievers at home (one dog belongs to the grandparents).  A nanny who will take interest in walking, playing with, feeding and watering the dogs each day is a must.  The dogs are very friendly and affectionate and part of their family.
This is a wonderful opportunity for a nanny who is seeking a position with a loving and happy family! They want their nanny to feel valued and appreciated.  Someone who will stay with them long term and grow with their family. They can offer stability and are looking for someone that wants to be a part of their family. They want their nanny to provide the same love and care as they do for their daughter when they are not at home. 
To be considered for this fantastic opportunity please email your resume to trisha@nannyjoynt.com please use Reference code – TNJPT113  in the subject line. Interviews will begin ASAP
---
Location
---