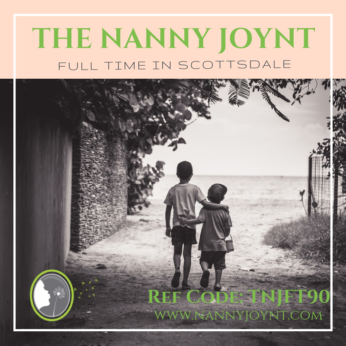 Ref Code: TNJFT90 – Amazing Family in Scottsdale Seeking Full Time Nanny
Nanny
N Thompson Peak Pkwy and E McDowell Mountain Ranch Rd
Posted 6 months ago
This position has been filled
Description
Reliable Nanny for Great Family in Scottsdale
Location: N Thompson Peak Pkwy and E McDowell Mountain Ranch Rd
Start Date: As soon as possible
Ref Code: TNJFT90
The Nanny Joynt is thrilled to share an amazing full-time position available in Scottsdale with an incredible family. This active and busy family has 2 children. The oldest is 5 and he loves to be active, enjoys sports, board games and is very playful. Their younger son is almost 4 years old. He is active, playful and loves his big brother. Mom is an ER Doctor and thus has a varying schedule which is laid out 2-3 months in advance. Some days she may be in the home sleeping while you are with the children if she worked an overnight. She is looking for a long term nanny who can help around the house and take care of her sweet and adorable boys.
The schedule will be 35-40 per hours a week, this is a variable schedule and Mom knows her schedule 2 to 3 months in advance.  There will be early mornings, some weekends, holidays and 3 to 4 overnights per month with this position. This position is offering $17 – $20 per hour with guaranteed hours, paid vacation, paid sick time and time and a half for holidays that you work (nanny will not have to work Christmas or Thanksgiving). During the summer months the hours can be 40+, both boys attend some camps during the summer from 9:00am until 12:00pm.
A typical day with this family will be:  Getting the boys up and ready for school at 6:30am, making them breakfast, dropping them off at school at 8:25am and then picking them up from school at 3:15pm.  You would be taking them to after school activities, soccer, ice skating and gymnastics. The youngest son has speech therapy on Tuesday and Thursday from 8:30am until 9:00am.  On the weekends Mom would love to have you plan fun outings with the boys. 
This busy and active family is looking for a nanny who will be calm, confident and organized.  A nanny who is attentive, active, clean, punctual, self driven & motivated would be ideal. You should be educated, flexible and have a positive attitude.  Someone who is kind hearted, happy and loving. Mom is a good communicator and would like their nanny to text her during the day and be open and direct with their communication. The boys are very fun, active and affectionate.  Mom prefers to have their electronics and screen time limited as much as possible.
Childcare related duties including but not limited to:
Preparing feeding meals/snacks

Driving to and from school (Mileage will be reimbursed)

Maintaining organization and making sure things the children need are taken care of efficiently

Homework help if needed

Educational activities

Bath time each evening

Children's laundry
Household responsibilities will include:
Light house cleaning, keeping things in order

Load/Unload Dishwasher

Helping with family laundry

Errands/grocery shopping

Meal prep and cooking
This family does have one Boxer dog who is very sweet.  There will be some feeding and watering the dog and letting in and out as needed.
They are seeking a long term commitment and hope to find a nanny who will become an active part of their family for years to come!
They are excited to find an amazing nanny to partner with them in helping with their children. A nanny who is very reliable and punctual is important for this position..
To be considered for this fantastic opportunity please email your resume to trisha@nannyjoynt.com please use Reference code – TNJFT90  in the subject line. Interviews will begin ASAP
---
Location
---