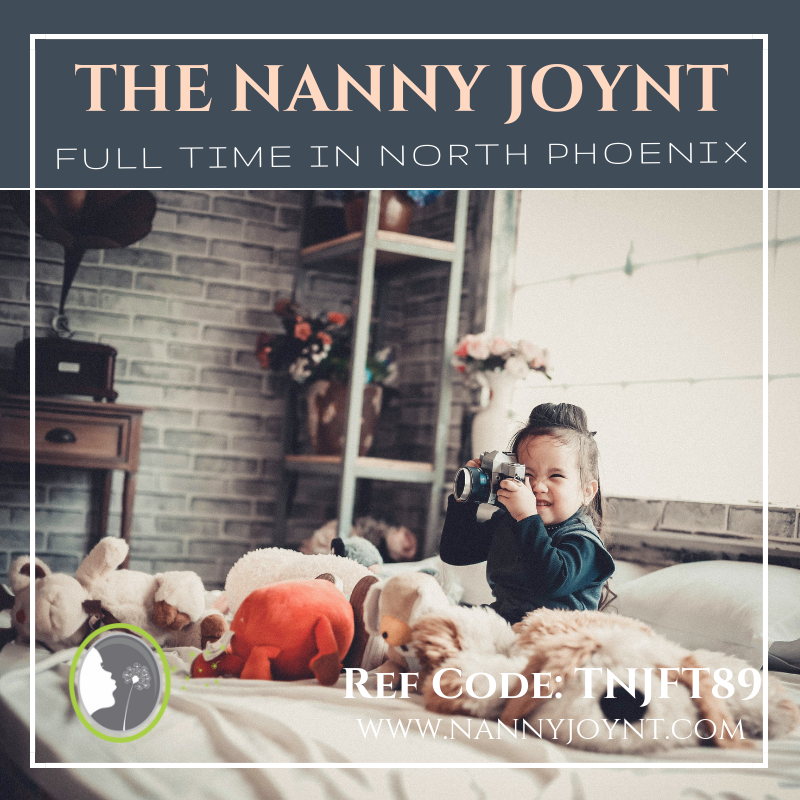 Ref Code: TNJFT89 – Amazing Family in North Phoenix Needs Full Time Nanny
Nanny
Shea and N 36th St
Posted 9 months ago
This position has been filled
Description
Amazing Nanny Needed in North Phoenix
Start Date: Mid November
Ref Code: TNJFT89
The Nanny Joynt is working with a wonderful family who lives in North Phoenix.  They have one sweet little girl who is 1 year old. We are assisting this family in finding a gentle, dependable and prompt nanny to join their family.  Their new nanny should be loving, proactive and engaging. The main focus for this position will be to provide excellent loving care for their sweet girl and light child related household tasks when time permits. 
The position will be 40-44 hours per week.  The hours are Monday through Friday 8:30am – 4:30/5pm, the family would like the nanny to have some flexibility to come early or stay later on some days with notice.
The position is offering $17 – $20 per hour gross, paid sick days, paid holidays and guaranteed hours!
The ideal candidate for this position will be very reliable and a great communicator.  The parents love receiving videos and texts throughout the day. They would love to find a nanny who is bilingual, Spanish/English, this is highly preferred however it is not required.  They are looking for a nanny who is very gentle. This family practices gentle attachment parenting and do not allow their daughter to cry in her crib for more than a few minutes. A nanny who is loving, happy, engaging, organized, flexible and has good judgement would be ideal. They are looking for a nanny who will be consistent, proactive and compassionate.  Both parents work outside of the home and really like a nanny who will communicate each day with them. The ideal nanny for this family will provide consistency and use gentle no cry methods with their daughter. They live close to their neighborhood park/splash pad and enjoy having their daughter take walks each day. She also attends a music class and swim class. 
Child related duties will include care for their sweet little girl each day. The nanny will be responsible for all child care, feeding, naps, potty training when ready, activities, outings, classes within walking distance (driving to activities may be needed in the future) and age appropriate developmental tasks daily. The family would like someone who will log daily activities and someone who loves being engaged with their daughter.
Household responsibilities will include:  Hand washing bottles and baby related dishes, children's laundry and linens, very light house cleaning such as load/unload dishwasher, simple meal prep for child, tidying and keeping things organized as needed. This family does have a house cleaner who comes twice a month for deep cleaning.  Their main concern is the care of their daughter, household tasks and helping out where needed if time permits.
This family does have two indoor short hair cats.  Occasional feeding and watering of the cats may be needed.
This is a sweet and loving family with the most adorable and loving little girl! They respect and value their nanny and will treat their new nanny like part of their family! 
They have employed their current nanny since the baby was just 12 weeks old and are so sad she will be moving out of the state. Their current nanny says, "This is the best job she has ever had!" They would love for their new nanny to shadow their current nanny for a few days so their daughter can ease into this transition. They are excited to meet their new nanny and want to find someone who will commit to at least one year and become an active part of their family.
To be considered for this fantastic opportunity please email your resume to trisha@nannyjoynt.complease use Reference code – TNJFT89  in the subject line. Interviews will begin ASAP.
---
Location
---