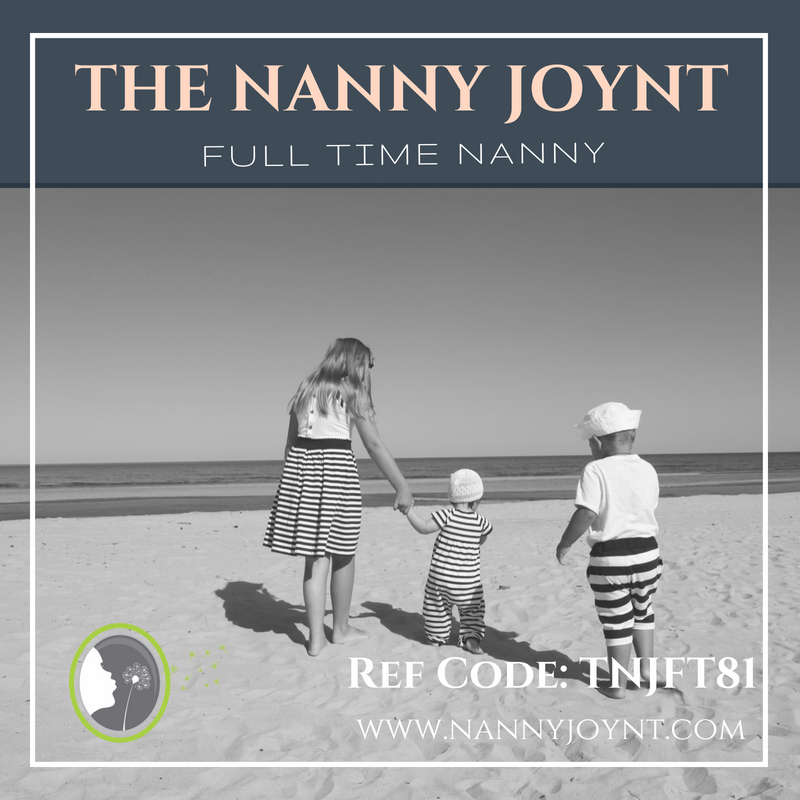 Ref Code: TNJFT81 Full Time Needed in Scottsdale for Three Children
Nanny
Shea and 60th Street
Posted 9 months ago
This position has been filled
Description
Full Time Nanny for great family in Scottsdale
Start Date: As soon as possible
Ref Code: TNJFT81
The Nanny Joynt is working with a wonderful family in Scottsdale with 3 sweet and fun children.  Their 5 year old daughter is intelligent, sweet and a great helper, their 3 year old son is independent, playful and loves art and their youngest daughter is 15 months and very curious and silly. We are assisting this family in finding a loving, energetic and engaging full time nanny. This position will consist of mainly caring for the children with some light household related tasks.
The schedule for this family will be 40 hours per week within the time frame of Monday through Friday 6:30am until 6:30pm. Dad is a Doctor who works shifts and the nanny's schedule will be laid out 1 month in advance. On days when dad is not working the nanny will not be needed unless dad is home sleeping. The family would also like their nanny to be available for date nights occasionally. Their 3 year old son goes to preschool Tuesday and Thursday and their 5 year old is in full day Kindergarten, Dad helps with driving when he is home, but the nanny will be driving when Dad is not available.
The position is offering $18 per hour gross, PTO, paid holidays, guaranteed hours and mileage reimbursement!
The ideal candidate for this position will be educated, loving, patient, friendly, engaging, organized, flexible, proactive and has good judgement. They are looking for a nanny who will be consistent, reliable and be an integral part of their family. Mom and Dad work outside of the home (Dad is home occasionally depending on his schedule) and are looking to add a warm and loving nanny to their team to assist with the children and the day to day tasks. They would love an active nanny who is excited about their career! Someone who enjoys to implementing educational activities throughout the day making learning fun! 
Child related duties will include care for their 3 children including meal prep, packing lunches, snacks, naps, activities, outings, classes and age appropriate developmental tasks daily. There will be a good amount of driving for this family on Tuesday and Thursday.
Household responsibilities will include children's laundry and linens, light house cleaning such as making sure kitchen is wiped down, load/unload dishwasher, family meal prep, tidying, and helping the kids clean up toy areas and children's rooms. This family does have a house cleaner who comes twice a month for deep cleaning.  
This is a fun and friendly family with really great kids! They are looking for a nanny who is consistent, loving, and safety cautious.  They are very excited to meet their new nanny who they hope will become an active part of their family for years to come! They are very relaxed and laid back parents and such a nice family! 
To be considered for this fantastic opportunity please email your resume to trisha@nannyjoynt.complease use Reference code – TNJFT81  in the subject line. Interviews will begin ASAP.
---
Location
---