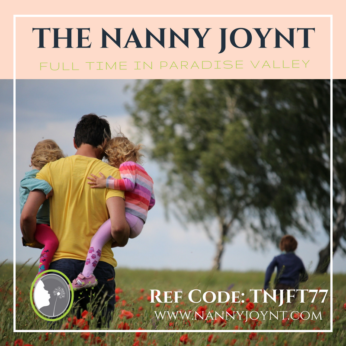 Ref Code: TNJFT77 Fun and Active Nanny Needed in Paradise Valley ASAP
Nanny
Scottsdale Rd and Double Tree
Posted 7 months ago
This position has been filled
Description
Active Nanny Needed for Amazing Family in Paradise Valley
Cross Streets: Scottsdale Rd and Double Tree
Start Date: ASAP Aug 2018 
Ref Code: TNJFT77
The Nanny Joynt is working with a fun and active family with three amazing children! Their son is 5 years old and their daughters are 3 and 2 years old. This family is seeking a professional, proactive, energetic and organized nanny to join their family!
The schedule for this position will be: Monday through Friday 8am until 5/6pm.  On Mondays and Wednesdays the start time could be 12:30pm however you will still be off around 6pm. The family is looking for someone who is excited to travel with them throughout the year and during the Summer months.  In the summer they spend 2.5 months on an island off of Seattle!! While traveling during the summer your schedule would be the same Monday through Friday 8am to 5/6pm, with nights and weekends off.  The family is willing to pay for some flights home during the summer for their nanny. They also do some traveling during the school year for up to 5 days at a time and they would like their nanny to make those trips with them as well.  
If the nanny is not able to travel with them during the Summer they are open to that however the Summer would be off an unpaid.
This position is offering $20/hour with guaranteed hours, paid holidays, sick days and a nanny vehicle to use while transporting the children.  
The ideal candidate for this position will be engaging, committed, loyal, honest, loving and active. You should be efficient and organized, effective at multitasking while managing the children and helping out with household projects, a true team player happy to pitch in whenever and wherever help is needed.  Mom works in and out of the home so she will be around to lend an extra hand during the day. This family has one friendly dog that will need let outside and fed during the day.
Child related duties will include assisting mom in getting the kids up and ready for school, transportation to/form school and various after school activities, swim class, educational activities, crafts, playtime, playdates etc. Facilitating nap time, Cooking for children and feeding meals and snacks. The children all attend school (5 year old full time Kindergarten, 3 year old 4 days per week 9am – 1pm, 2 year old 3 days per week 9am – 1pm)
Household/personal assistant responsibilities will include child related laundry, towels and linens, loading and unloading the dishwasher, cleaning up the kitchen, organizational projects, light house cleaning and tidying, errands/grocery shopping, simple light meal prep for the kids,  some pet care, assisting with packing/unpacking for trips. This family does employ a housecleaner 2x per week so no deep cleaning will be required just cleaning up after self and children to ensure the home running smooth and organized. 
They are seeking a long term commitment and would love to have their nanny stay with them for the next 2-5 years or longer!
Nannies this is a fabulous job for the right candidate who is FUN, upbeat and loves getting things done! This is a wonderful family who is looking for a long term career nanny to join them in raising their sweet children. They are respectful, flexible and will treat their nanny like family!  They are excited to meet a new nanny who can be a great help and make a lasting connection with their children. If you possess all the qualities above and are ready to work with a really wonderful family please send your resume to trisha@nannyjoynt.com REF CODE TNJFT77!
---
Location
---