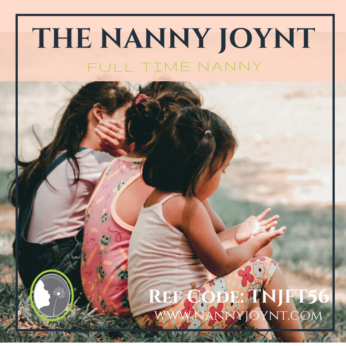 Ref Code: TNJFT56 Organized Full Time Nanny in Paradise Valley
Lincoln Drive and Tatum Blvd
Posted 10 months ago
This position has been filled
Description
Organized Nanny for Great Family in Paradise Valley
Location: Lincoln and Tatum
Start Date: As soon as possible
Ref Code: TNJFT56
The Nanny Joynt is excited to share two amazing full time positions available in Paradise Valley with an incredible family. This active and busy family has 5 children who are 8, 7, 5, 2 and 15 months.  The family with dual physician parents is seeking two nannies to cover hours throughout the week as mom returns to work full time. Please specify when applying for this position which schedule you are interested in. Both parents work outside of the home and are looking for a couple sets of hands to help run their household and care for their well behaved and adorable children.
The schedule will be 46 hours a week for Nanny #1: FILLED
3 days per week – 6:30am – 6:30pm

2 days per week – 2:30pm – 7:30pm

The days of the week will be set and the same each week.
The schedule will be 39 hours a week for Nanny #2:
2 days per week – 6:30am – 6:30pm

3 days per week – 2:30pm – 7:30pm

The days of the week will be set and the same each week.
This position is offering $20 – $25 per hour with paid vacations, paid holidays paid sick days, guaranteed hours, and use of family car!!
This busy and active family is looking for nannies who will be organized, attentive, active, clean, punctual, self driven & motivated.  Someone who is kind hearted, happy and loving. The ideal nanny for this family will be someone who is great with managing kids under the age of 9.  They need someone to be firm when needed and active in their sometimes crazy household. They would love to have a Spanish speaking Nanny as both parents speak Spanish, but this is not required.
Childcare related duties including but not limited to:
Getting the children ready for school

Feeding meals/snacks

Maintaining organization and making sure things the children need are taken care of efficiently

Homework help

Educational activities

Working on developmentally appropriate activities with the 15 month old who will be home with the nanny during the day

Driving children to and from school/ activities (a car will be provided for you to drive)

Possible travel with the family on family vacation
Household responsibilities will include:
Light house cleaning, they have a housekeeper weekly

Laundry – mainly for the kids but some assistance with family laundry would be appreciated

Washing linens and towels weekly

Assisting the children in cleaning up after themselves and keeping their rooms tidy

Meal prep and cooking – simple meals

Grocery shopping

Errands

Organizational projects
They are seeking a long term commitment and hope to find two nannies who will become an active part of their family for years to come!
This is a large, fun, noisy family with wonderful kids!  They really strive to keep the focus on communication and relationships with one another.  They have a lot of fun together and invest with each other, and this helps maintain love and trust in the home. They try to limit electronics and "screen time" for the kids. Family meals and dinner time in particular are a very important to them.  Although it can be challenging to have two parents working full-time with very demanding jobs, parenting and raising their kids is the most important job to them. They are excited to find two super nannies to partner with them in this work.
To be considered for this fantastic opportunity please email your resume to trisha@nannyjoynt.com please use Reference code – TNJFT56  in the subject line. Interviews will begin ASAP
---
Location
---