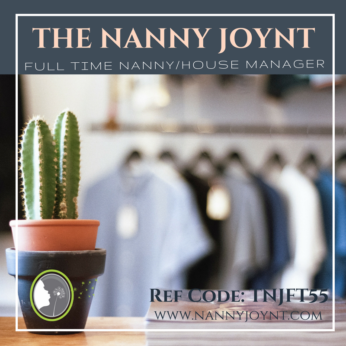 Ref Code: TNJFT55 – Full time House Manager/Nanny/Housekeeper
Housekeeper
18th Street and Baseline Road phoenix, AZ
Posted 10 months ago
This position has been filled
Description
Organized Housekeeper/Household Manager for Family in South Phoenix
Location: 18th Street and Baseline Rd
Start Date: As soon as possible
Ref Code: TNJFT55
The Nanny Joynt is excited to share an amazing full time household mgt/housekeeper position available in south Phoenix. This family has 5 children who are 5, 6, 7, 14 and 16.  The family is seeking a house manager with full charge house cleaning and laundry responsibilities and minimal childcare. Both parents run a very busy business. They are extremely involved and active in the lives of their children thus rely on their housekeeper to keep things running smooth and efficient in their home.
The schedule for this position will be Monday thru Friday from 7:30am until 4:30pm for a 40 hour work week.    
This position is offering $18 – $25 per hour with paid vacation, paid holidays, paid sick days, health insurance and 401K!!!
This busy and active family is looking for a house manager  who will be organized, attentive, punctual, self driven & motivated.  Someone who has an eye for detail and organization would be best for this family. The ideal house manager for this family is someone who is great at multi tasking, very detailed and proactive, hardworking, honest, and energetic!   Someone who is happy to show up to work everyday who enjoys an organized and clean home and helping to make the lives of their employers easier!
Child related duties will include occasional as needed child care including but not limited to: Meals, snacks, laundry, cleaning up after self and children.  Maintaining organization and making sure things the children's needs are taken care of efficiently. Childcare will only be on occasion when a child is home sick.
Household responsibilities will include full charge house cleaning of their 3500 sq ft home including but not limited to:
Laundry for family, dry cleaning, ironing

Daily cleaning of the kitchen, dishes, dishwasher

General tidy/straightening of entire home each day including making all beds

Deep clean of each room in  home on a weekly schedule

All linens changed/washed weekly

Water plants

Organizational projects

Occasional errands/grocery shopping

Keeping the home running efficiently.
This family enjoys a neat and tidy home and prefers a house manager who enjoys the same. Someone who is overly organized, efficient and neat would be great for this family!
This is a wonderful opportunity for a professional housekeeper/ manager who is seeking a  long term position with a caring family! This awesome and dynamic family treats their personnel very well.They want their housekeeper to feel valued and appreciated.  They run a company and have many employees who have worked with them long term! Their last housekeeper was with them for the past 8 years! There will not be a dull day in this busy environment. They are fun and outgoing and are excited to meet a wonderful housekeeper to join them in maintaining their home.
To be considered for this fantastic opportunity please email your resume to trisha@nannyjoynt.com please use Reference code – TNJFT55  in the subject line. Interviews will begin ASAP
---
Location
---