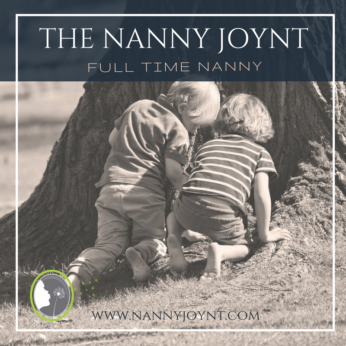 Ref Code: TNJFT51 Full time Nanny
Nanny
Tatum and Bell phoenix, AZ
Posted 9 months ago
This position has been filled
Description
Full Time Nanny
Tatum and Bell
Start Date ASAP
Ref Code: TNJFT51
The Nanny Joynt is seeking an experienced, loving and compassionate nanny to assist a single father in caring for his two boys ages 3 and 5. This position will be Full time and average 40 hours per week as the kids are on a 2-2-3 schedule. The schedule will be:
Every Wednesday 8am – 8:30pm

Every Thursday 8am – 8:30pm

Every other Friday, Saturday Sunday. Friday 8am until Sunday afternoon. (Overnight Stays) Friday, Saturday and Sunday the nanny will be traveling with the family to their second home in Flagstaff
The nanny will have every Monday and Tuesday off and every other Friday, Sat, Sun off. 5 day weekends every other week!!! 
This family is open to hiring a live in nanny or live out! They would prefer if live out that the nanny be available to stay the night if needed on Wed/Thurs as dad travels.
This is an outstanding opportunity to work with a really nice and laid back family! The position is offering $550 – $700 per week with paid holidays, guaranteed hours and use of family car! For live out the nanny will be hourly at $18 – $20/hour plus an overnight rate.
This family would like to find a nanny who is fun and engaging and most importantly has a great connection with the children! The ideal nanny for this family is someone who is active and enjoys playing and engaging with the children. Someone who is not afraid to go outside and play or go for a swim with the children! The 3 year old has some speech delays so it would be great for the nanny to be open to work with him. This family has the neatest space for the children! The entire basement is a play room with the kids bedrooms! It is awesome! A nanny who is routine oriented and neat would work best for this family.
Child related duties will include getting the children up and ready for the day, preparing and feeding breakfast, preparing lunches, taking the children to school Picking children up from school, homework assistance, reading, planning fun activities, and playing and interacting with the children. Taking to after school activities and speech therapy. Dinner for the children, bath and bedtime.
Household Management duties children laundry, errands, grocery shopping, meal prep for kids, light housekeeping, organizational tasks pertaining to the children, shopping for child related items, overseeing scheduled contractors as needed. This family does employ a housekeeper bi weekly so no deep cleaning will be required.
The ideal candidate for this position is dedicated, loving and great with children. This is a family with highly involved grandparents who will be an active part of the day to day. We had the opportunity to meet with grandma and she is lovely! They live just down the street and travel to Flagstaff with the family.
They are looking for a LONG-term commitment for years to come.
To be considered for this fantastic opportunity please email your resume to trisha@nannyjoynt.com please use Reference code – TNJFT51 in the subject line. We are looking to get candidates lined up for this position ASAP.
---
Location
---