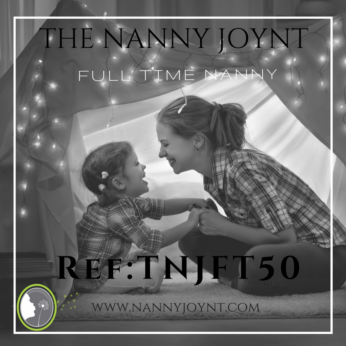 Ref Code: TNJFT50 Full time Nanny 3 days per week
Nanny
40th Street and Camelback
Posted 3 months ago
This position has been filled
Description
Reference Code: TNJFT50
Full time Nanny
Start Date: ASAP
40th Street and Camelback
The Nanny Joynt is excited to share a great position with a wonderful family with dual Physician parents and 3 beautiful children ages 5(G), and 18 month old twin Boys! This family is seeking a professional, experienced, and loving  nanny to assist with their children 3 days per week Monday, Wednesday, Friday from 7am – 7pm for a total of 36 hours.
The position is offering $18-$22/hour with guaranteed hours, PTO and paid holidays!!!
The ideal candidate for this position has prior nanny experience with multiple children who can easily provide the love and care each child will need. Key characteristics for the position is someone who is extremely proactive, trustworthy, loving, energetic, enthusiastic about her work, and a great communicator! Mom is very involved and hands on so it is important for their nanny to be a true team player pitching in whenever and wherever needed. This family practices a conscious discipline/RIE parenting style and prefers a nanny who is open to learning their preferred methods so the care is consistent between the nanny and parents. They are not okay with screen time of any type for their children and would love a nanny who supports this. Bilingual in English and Spanish would be a huge plus but not required.
Child related duties will include overall care for 3 children 5 year old girl (she is in school until 1pm M,WF, and will be in school FT starting next year) and 18 month twins including but not limited to bottle feeding, preparing and feeding healthy meals and snacks, maintaining a healthy schedule, changing diapers/potty training, working with babies on educational activities and play, planning and facilitating age appropriate activities to help the children develop mentally, physically and emotionally as well as hit developmental milestones, fun outings to places like the zoo, library, playdates, self play time, and reading. Drop off/pick up the 5 year old from school.
Household responsibilities – Children's laundry, washing children's linens, emptying trash, load/unload dishwasher, wash bottles/children dishes, toy pick up and organization, helping to maintain a clean kitchen, vacuuming main area of the house, overall tidy of the home. This family does employ a housekeeper weekly. In a busy household of 3 kiddos there is always things that can be done. This family would love and appreciate a helpful proactive nanny.
This family does have 2 very sweet big dogs. They are great with the kids but want a nanny who is great with supervising the dogs/children and never leaving the children alone with the dogs.
They are looking for a long term commitment 1 year +
This is a wonderful family with 3 really great kids! They were all there during our client assessment and I was very impressed with the way the children played and allow mom and I to talk. You can tell there is a lot of love in this home! Mom and Dad value their nanny and enjoy working as a team. They are super open communicators and are looking for a nanny who will love their kids and become part of their family!
To be considered for this fantastic opportunity please email your resume to trisha@nannyjoynt.com please use Reference code – TNJFT50  in the subject line. Interviews will begin ASAP
---
Location
---