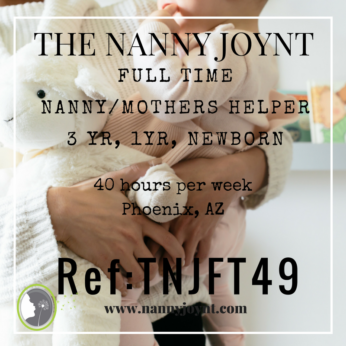 Ref Code: TNJFT49 – Nanny/Mother's Helper
Nanny
44th Street and Bell
Posted 6 months ago
This position has been filled
Description
Full Time Nanny/Mother's Helper Phoenix
44th Street and Bell
Start Date ASAP
Ref Code: TNJFT66
The Nanny Joynt is so excited to share a wonderful opportunity to work with a great family! Dad is a doctor and mom is a stay at home mom with a 3 year old, 1 year old and baby due this Summer! This position will be full time 40 hours per week! They are flexible on the schedule and still trying to determine what schedule would be best once the new baby arrives. A potential schedule will be: 
Monday, Wednesday Friday: 7am – 3:30pm
Tuesday/Thursday: 12pm – 7pm
They are open to other schedule options and truly want to find the best fit. The schedule will be set and the same each week. (Dad is an extremely busy neurosurgeon so during the week mom will need a lot of help once baby arrives)  
Rate offered is $20 per hour with guaranteed hours, paid holidays, and  paid time off!!!
This family is looking for a nanny who will truly feel like a part of the family! Someone who will be vested in the children's well being providing engaging and loving care! They would prefer a nanny who is a very open communicator, interactive, fun and attentive. Someone who has a helpful attitude who is open to jump in and help out where she is needed. They would love a nanny who has a special talent (artistic, musical instrument, or someone who speaks another language). Nanny must be a proficient swimmer comfortable taking the children swimming.
Mom will be home and very involved with the children and the day to day activities. Nanny must be okay with with a stay at home mom and open to a team approach with the kiddos.
Child related duties will include caring for the children and assisting mom while she recovers from a c-section. The nanny will get the children up in the morning (if they are not already up) diaper change, dressed, breakfast and then begin the day! Drop off/pick up the oldest from school as needed. Facilitating meals and snack/bottles for the children, playtime/ lots of outdoor play/reading. The one year old is not a great napper so a nanny who can be patient with her and open to rock/hold her while sleeping. Maintaining a happy and healthy schedule for the children. Assisting with anything child related.  
Household duties will include general tidying of the home and cleaning up after self and children, making sure the kitchen is cleaned up after meals, washing bottles, unloading/loading dishwasher, children laundry and linens, taking the trash out if needed. They would love if the nanny could assist in preparing simple meals so dinner time is manageable 🙂  This is NOT a housekeeping position simply maintaining order and cleanliness.
Commitment: Family is looking for a long term commitment. Minimum 1 year
This is a wonderful opportunity to work with a loving and kind family with the most adorable and well mannered children! They are very fair people and want their nanny to feel appreciated and enjoy coming to work each day.
To be considered for this fantastic opportunity please email your resume to trisha@nannyjoynt.complease use Reference code – TNJPT49  in the subject line. We are looking to get candidates lined up for this position ASAP.
If you are interested in applying and have not already done so please fill out the nanny application to be considered for this incredible position! Thank you and we look forward to working with you soon!
---
Location
---